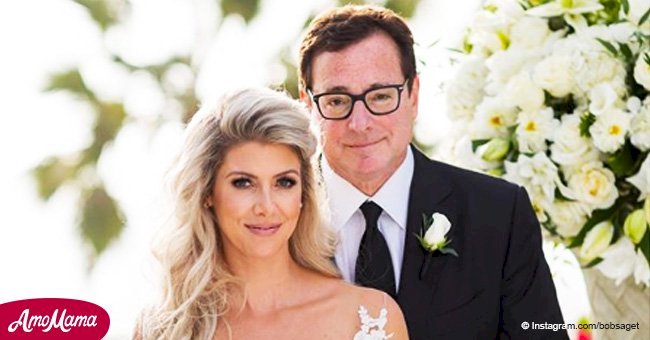 'Full House' Bob Saget marries Kelly Rizzo in an alluring beachside wedding
Bog Saget tied the knot with his long-time girlfriend and they look to be a match made in heaven.
Best known for his stint on the 90's family series "Full House," Saget wed Kelly Rizzo in Santa Monica on Sunday.
Saget, 61, now stars in the follow-up series "Fuller House." Rizzo works as a TV personality and a blogger according to US Magazine.
The pair met in 2015. In November 2017, they got engaged. Back then, Rizzo told US Weekly that the two are "incredibly lucky to have found each other, and I love all six of his personalities."
Saget posted a picture on his Instagram with the caption:
"Okay, so we went and did it. And [expletive] are we happy.
The sweet photo was taken by professional photographer Nicole Goddard.
The venue was Shutters, a luxury beachfront hotel located in Santa Monica, California.
Rizzo wore a white lace gown designed by Pronovias. Saget kept it simple with a black suit and a white rose pinned to his lapel.
Rizzo held on to a large bouquet of white flowers just like those behind them. The 39-year-old posted to her Instagram after the ceremony and made fun of their choice of date.
"@bobsaget and I dressed up as a bride and groom for Halloween. Seriously though, best day of my life."
She also described the occasion to US Weekly:
"The night was perfection and the love and support from our family and friends was overwhelming. Oh and the food was fantastic!"
Friends included a few celebrities. Some of them spread the joy on social media.
John Mayer reposted a photo of the newlyweds and quipped: "Like I said, I had a thing last night. And what a beautiful thing it was. Congratulations Kelly and Bob!"
Dave Coulier, Saget's former co-star, commented on one of the photos saying: "That was a FUN wedding!!! Love you guys!"
Saget , also a director and comedian, is on his second marriage. He was previously married to lawyer Sherri Kramer for 15 years. They had three children together before their divorce in 1997.
So far, the energy between Saget and Rizzo is fun and seems heartfelt. Rizzo told Us Weekly back in April:
"He keeps me on my toes, literally. He's just a wonderful guy. He's a comedian, so there's never a dull moment! And all of his friends are just so fun because they're just as fun and unique and complex as he is."
Saget, who has had to endure major losses in his family, could always do with a bit more happiness in his life.
Please fill in your e-mail so we can share with you our top stories!