Affectionate puppy cannot stop hugging owner after going through surgery that saved his life
After going through a complicated surgery, a dog reunited with his owner and the heartwarming video has melted hearts all over social media. The bond between this pup and his human is impressive.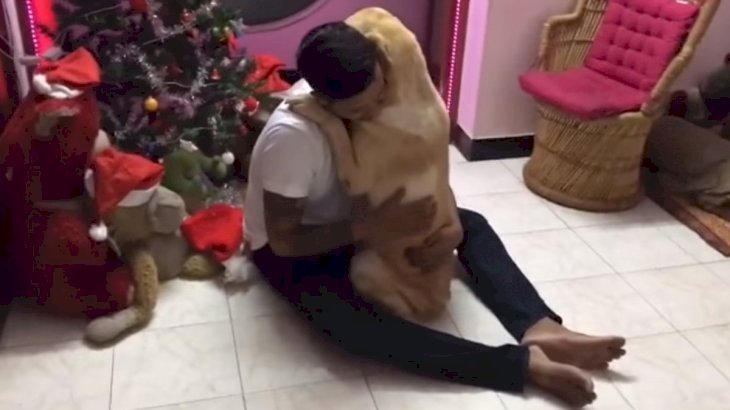 Consider the fact that pets can't understand why every time they visit the veterinary they're being prodded and poked by a stranger while their human does nothing to avoid it, is not weird that they're scared of it.
That's probably the experience that this yellow Labrador named Jack Daniels had to experience. He had to go under a complicated surgery to remove a lump from his neck, and once he was released from the hospital, he was visibly relieved to meet with his owner at his safe place.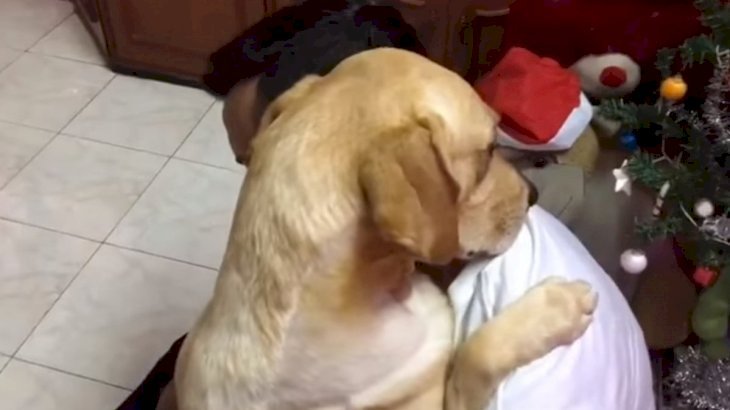 THE TEAR INDUCING REENCOUNTER
After the surgery, the dog was left with a shaved neck and a row of sutures where the lump was. But putting aside the pain and probably how uncomfortable he was, Jack Daniels couldn't stop hugging his human.
The clip, recorded somewhere in Chennai, Eastern India, shows a man sitting on the floor next to a Christmas tree while his dog rests between his legs with both paws on either side of his shoulders. The man couldn't contain his tears, and he showers his dog with kisses, while the animal keeps his head on the man's shoulder, looking emotional about the encounter.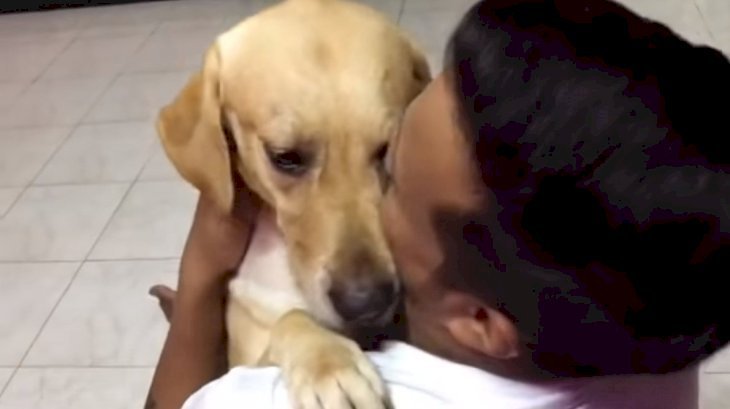 Is clear that the bond between these two goes deep down their hearts, and people all over the world had to comment on the amazing moment.
One user wrote:
"Oh, it's the dog that got the surgery I thought it was the guy and the dog just missed him. The realization just hit me in the feelsies."
And another added:
"Beautiful. Other owners would have simply dumped their pet instead of paying for the surgery! God Bless em both!"
ANOTHER DOG SHOWS HIS EMOTIONS
Meanwhile, another dog that became a viral sensation is a lovely pitbull that was rescued from a high-kill shelter by a volunteer.
Kayla Filoon, 20, was a volunteer at the ACCT Philly, an animal shelter in Philadelphia. She used to walk the homeless dogs around and play with them, but she never got to adopt one. Until she met Russ, a 4-year-old quiet and cuddly pitbull that stole her heart.
"He came in as a stray, and he was really beaten up," Filoon told The Dodo. "He was missing fur on his tail and ears. He was also terribly skinny. They told me he was about 40 pounds when he came into the shelter."
It took her only two days to decide to give Russ a new home, and the dog showed his gratitude in the best way possible: by cuddling up to her in every opportunity he got.
A photo of Russ hugging his new owner while resting on a sofa became a viral sensation, with people using it as an example of how lovely pit bulls are and hoping to inspire others to adopt stray dogs.