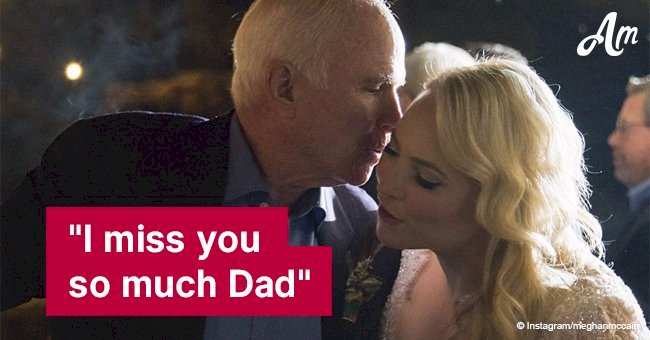 Meghan McCain opens up about her father's death

Meghan McCain poured out her heart on social media as she paid tribute to her late father.
Co-host on "The View," McCain posted a lengthy caption on Instagram alongside a picture of her and her dad.
The 34-year-old lost her 81-year-old dad on August 25. He passed due to glioblastoma, a form of malignant brain cancer.
Follow us on Twitter for more @amomama.
Meghan said in the post:
"66 days, I wake up every morning still instinctually trying and reaching to call you on the phone. I miss you so much Dad it physically hurts my heart."
She continued with her touching words:
"I miss your laugh, your voice, your dark sense of humor, the way you always made me feel safe in a world that seems to have lost its way."
Imagining the former Senator and the activities he shared with his daughter was heartbreaking for some:
"I miss your dry ribs and grilled chicken. I miss you singing The Beach Boys on the porch. I miss waking up and drinking cappuccino and reading the New York Times together. I miss your old far side t-shirts and watching John Wayne movies."
Around the same time, Meghan posted an Instagram story which displayed her dad's face on a Jack-o'-lantern.
She ended her post with more heart-wrenching memories:
"I miss hiking across the creek to the top of the mountain and watching the black hawks. I miss the way you cooked eggs and bacon. I love you forever. Stay with me."
Following the Senator's death, a state funeral was held. Meghan gave a eulogy for her father, a former naval pilot. She took time off from work to grieve.
John's wife, Cindy said on Twitter that she was "lucky to have lived the adventure of loving this incredible man for 38 years. He passed the way he lived, on his own terms, surrounded by the people he loved, in the place he loved best."
Upon her return to the show, Meghan thanked everyone for their comforting words. She also appealed to the audience to remain united.
"We can never surrender to what is happening in the country right now. I understand how divided and how scared a lot of people are and it looks like the fabric of democracy is fraying. We do not surrender."
The late war hero revealed his medical condition to the public in July 2018. In a halting coincidence, his death coincided with when the same illness took the life of Senator Ted Kenndy.
The latter passed away nine years before to the week of John's death. The prognosis for the sickness is very low, usually 14 to 14.5 months.
John attempted to extend it with chemotherapy and other surgeries. He managed to gain another 15 months before he passed.
Soon after the funeral, McCain posted a simple tribute of her late dad. She shared a photo of her father's tombstone.
The ode to her father has reflected the unspoken words of pain that many relatives feels when they have lost a loved one. We wish Meghan the best as she struggles through such difficult times.
Please fill in your e-mail so we can share with you our top stories!