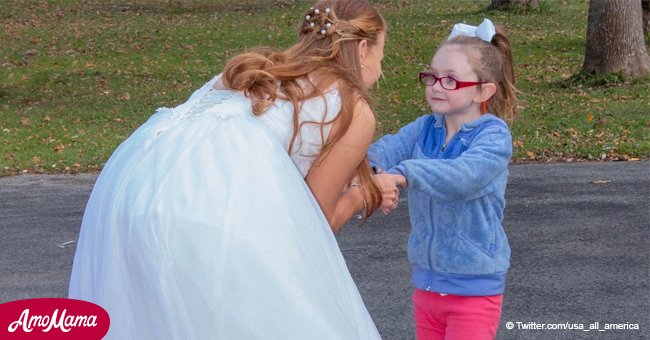 5-year-old autistic girl confuses a bride with Cinderella, and her kind reaction went viral

A wedding photographer at Akron Falls Park, New York, witnessed a beautiful moment between a bride and a young girl in the autism spectrum and captured it on camera to melt everybody's hearts.
Photographer Nicole Wickins was working in another wedding appointment and wanted to take some outdoors snapshots of the newlyweds without imagining she was going to feel the kind of magic one might only expect at a Disney's theme park.
Wickins took to her business Facebook account to share the story and pictures of her meeting with 5-year-old Layla Lester, who, after seeing bride Olivia Spark looking fabulous in her wedding dress, was sure she was in front of "Cinderella."
To Layla's luck, her real-life Cinderella didn't disappoint and was every bit as lovely and caring as one would expect a Disney princess to be, welcoming the little girl's fantasy. Read more on our Twitter account @amomama_usa
"I have been doing photography professionally since 2012, and no moment has ever compared to this one. It was a blessing to be a part of."
-Nicole Wickins, Facebook, October 18, 2018.
As Wickins said in her post, little Layla stole her heart in the two occasions she had the privilege to be around the child. After their inspiring encounter, the photographer and the girl gave an interview to a local TV station.
"WKBW requested an interview with us all to discuss this magical moment. As Olivia pulled up, once again, Layla could not contain her excitement. Even though Cinderella was in normal clothes this time, the excitement remained the same," wrote Wickins.
"I was really caught off guard. Because there's a little girl that none of us had known, so I wasn't sure if I should take pictures. But it kind of just felt like the thing to do," Wickins told WIVB4.
In her post, Wickins thanked Layla's parents Jessica and Paul for letting her share the pictures and do follow up on the cute girl, and congratulate them for having "such a beautiful and wonderful young lady, and such a jokester!"
Jessica shared with the news outlet how touched she was by Olivia's reaction to Layla's "mistake."
"She was just so sweet with her and just kept talking to her and asking her questions. Layla loved her and she fell in love so fast," the mother said.
Since the incident became known publicly, the community around Layla started to imagine what it would be like for her to meet several Disney's princesses given her heart melting reaction to "Cinderella."
With this in mind, a GoFundMe campaign was started on October 15 to make Layla's biggest dream come true. They are hoping to raise $50,000 to take the 5-year-old to Disney World.
The campaign gathered roughly half of its goal in two weeks, with more than 600 people contributing to it.
"We have talked to Layla family and we cannot wait to see Layla face as I planned to give them this great donation. What such kind and loving people," reads the fundraiser description.
Autism can manifest itself in a wide array of ways that vary from individual to individual. What's important is to keep in mind that however differently children in the spectrum relate to their surroundings, there is always a curious and creative soul behind a diagnosis.
Art, and fantasy, are excellent access paths to the world of these children, and when they are received with open arms, understanding, and empathy, magical things happen.
Country singer Josh Turner knew this in 2013 when he decided to invite a boy in the autism spectrum named Logan Blade to join him onstage for one of his life shows to perform his classic song "Long Black Train."
When Turner heard about Blade on the radio and learned that despite being unable to speak, the child could express himself through music and Turner seemed to be his favorite musician.
Blade took to the stage at the iconic Grand Ole Opry in Nashville next to the star he most admired, and the two gave an unforgettable show.
Please fill in your e-mail so we can share with you our top stories!