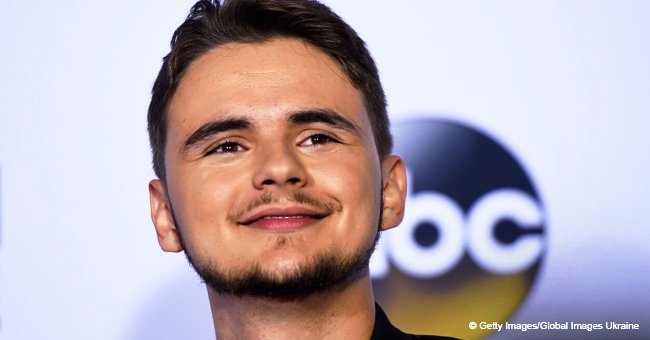 Michael Jackson's son Prince shares photo with rarely-seen girlfriend who looks like sister Paris
Prince Jackson took to Instagram to share a set of pics with his girlfriend of 1 year celebrating her birthday in Las Vegas. Even though he still hasn't revealed her name, fans have strong opinions on the girls' looks.
The 21-year-old eldest son of the King of Pop is happily in love with a blonde girl that, according to reports, he met at the Loyola Marymount University in Los Angeles, where he is majoring in business.
Prince and the mysterious young woman recently took a trip to Las Vegas for her birthday, and he shared a few snaps of their experience with fans on Instagram. In one of the pics, Prince is wearing a yellow t-shirt, jeans, and a cap, sitting on an ornate chair while his girlfriend sat on his lap, rocking a black mini skirt and top.
In another snap, the lovely couple posed alongside two friends, and on the third picture, Prince and the girl look fancier, wearing a suit and a dress respectively, as the pose outside a posh hotel somewhere in Vegas.
"Went to Vegas to celebrate this cuties birthday, but also got to kick it with the @harleydavidson crew and @johnnylouch and @beaucaspersmart at the @monsterenergy event," Prince captioned the photo.
DOES THE GIRL LOOKS LIKE PARIS?
Fans took to his comment section to share their thoughts on the pics, and while most people shared how happy and excited to see Prince in a relationship, others seem to believe his girlfriend looks a lot like his sister, Paris Jackson.
"Y'all look so happy together! Stay strong, positive and love like there's no tomorrow. Best to you both <3." - @miss_kiya.kay
"She looks like Paris prince YASS twins." - @asrchja_29
"She looks like Paris, pretty, enjoy." - @survivor_rodriguez54
"Lol ok, so I'm not the only one who thought that was Paris." - @the.gurl.was.dangerous
"This girl is making ME think that she's Paris this whole time sjsjsjsks." - @twy.mmf
GUSHING ABOUT HIS GIRLFRIEND
Prince first surprised fans last March, when he posted a pic with the girl with a beautiful ocean in the background, revealing that they were celebrating their first anniversary. People were amazed to discover that the young man was able to keep a secret relationship for a whole year.
He recently gushed about the lucky girl to People magazine at the Dee Dee Jackson Foundation's 3rd Annual DDJF Costume for a Cause event, he said:
"I think in everything there's an important balance. I think that I'm a certain way, and she's very — I don't want to say opposite — but complementary in a way that we balance each other out. I'm more aggressive. She's a little softer."
He also revealed that the girl, whose name he refuses to reveal but that he called Molly on a recent Instagram post, helps him see things from a different perspective, and that's what helps them "stay well-rounded."
Prince lost his father, Michael Jackson, at 12. But according to the young entrepreneur, the King of Pop gave him and his siblings, Paris and Blanket, all the necessary tools to succeed.
"Obviously, it was cut short, and we didn't get to learn as much as we should have, but he did give us enough to succeed on our own," he stated.
Please fill in your e-mail so we can share with you our top stories!