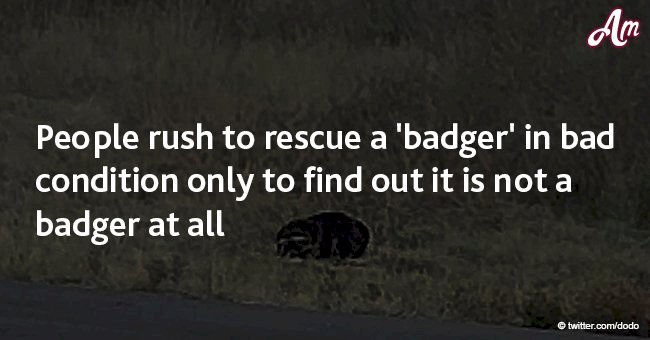 People rush to rescue a 'badger' in bad condition only to find out it is not a badger at all
It took almost five days of vague sightings and lots of waiting. Then residents determined what creature was leaving tracks in Southern Colorado.
On October 6, 2018, the reports started coming in. At first, persons thought it was a badger with its small, stubby legs. Other thought it might be a dog.
According to SoCO Paw Responders, sightings were made on the corner of HWY 50 and Purcell. Responders looked for more tracks but they didn't find any.
Follow us on Twitter for more @amomama.
The initial Facebook photo did not clarify the matter and it turned into a rousing debate. But concerned persons stayed on the lookout. Whatever it was, it needed their help.
One member of SoCO Paws Responder, Francesca Coatti, told the Dodo that the team would look into all claims of spotting. They searched the area and finally found paw prints and a burrow in some bushes, but nothing else.
On Tuesday, someone posted a response saying:
"Our son saw a black dog with a white chest about 50 yards off the road. I barely saw him out of the corner of my eye, but he was sitting there staring at us and I didn't have time to go back."
When the team went out again on Wednesday, they saw the dog. But a trap was necessary to take it to safety. They set up a 40-pound metal trap and by Thursday, they found an Australian shepherd mix.
Coatti said:
"Every time we come back to the trap with our dog safely inside our hearts sing. It is one of the best feelings in the entire world to see two eyes peer back at us ... Usually, we all burst into tears and give high fives."
The group named her Honey. At the veterinary office, Honey passed all checkups and received vaccinations for her health.
When she was ready, the team put her up for adoption and a loving mom eagerly applied. Now Honey is no longer fending for herself in any dry creeks.
In the Down Under, a wild animal was in need of saving when the creature entered Australian surf.
A kangaroo was seen as it ran across a highway and then entered high surf waters. Onlookers felt compelled to save the kangaroo who was clearly unable to stay comfortably above water.
When it escaped again, Sergeants Cristopher Russo and Senio Sergeant Kirby Tonkin took off their uniforms and went right in.
They pulled the creature out. But the officers had to give the kangaroo chest compressions and it began breathing again. He made a full recovery and was sent back into the wild.
Source: YouTube/ Hope For Paws - Official Rescue Channel
And back in October 2013, the Hope for Paw rescue team saved a terrified puppy they later named her Holly.
The dog barked at her rescuer at first. But after about 20 minutes she calmed down and allowed herself to be swept up and saved.
Please fill in your e-mail so we can share with you our top stories!