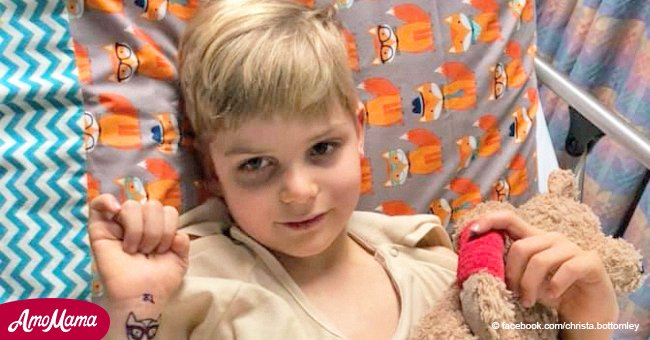 Heartbroken families share impact of devastating illness that affects mostly children
Camdyn Carr's ordeal began with a sinus infection. He was paralyzed after 72 hours and could not move the right side of his face or raise his arm.
The 4-year-old was diagnosed with acute flaccid myelitis, a polio-like illness. Read more on our Twitter account, @amomama_usa.
The disease ravaged his body and Camdyn now needs a tube to help him breathe and only has slight movement left in his one arm and leg.
Doctors do not know exactly what causes the mysterious disease and there is no official treatment as yet.
Another family is also battling the devastation AFM after their 6-year-old son Sebastian was diagnosed.
Sebastian faced near complete paralysis, but after more than 2,000 hours of therapy, he can now dress and feed himself and stand upright. However, he still can't walk.
An expert in the field, CDC Director John Dickerson, said that while they still don't know what causes the disease, it does not "appear to be transmissible between humans."
POSSIBLE CAUSES
The Center for Disease Control believes that the polio virus can lead to AFM. Environmental toxins and genetic disorders can also play a part, experts say.
SYMPTOMS
The virus enters the body through the gastrointestinal tract or the respiratory tract and can cause vomiting and diarrhea, coughing, and congestion.
In very rare cases, the virus can invade the nervous system and cause inflammation of the spinal cord. Symptoms include droopy eyes and jowls, as well as difficulty breathing.
Several patients have also developed muscular weakness in their arms and legs. Some patients are unable to move their limbs but can still feel sensation.
PREVENTION
According to the CDC, the best way to guard against the disease is to ensure that children are vaccinated and to take caution against mosquito bites.
Regular hand-washing and general hygiene practices can also help to prevent the spread of germs.
Please fill in your e-mail so we can share with you our top stories!