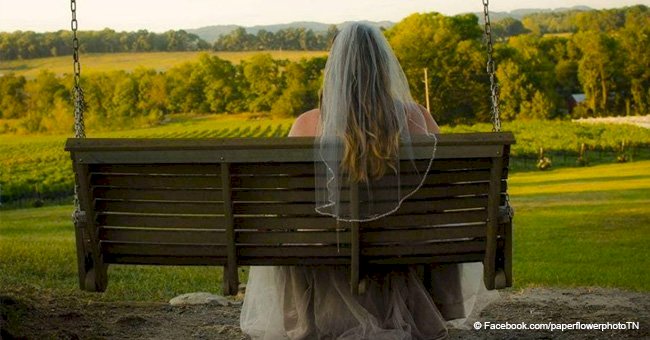 Woman shares emotional photoshoot with husband's favorite things after his sudden death
One heartbroken woman decided to channel her emotions into preserving her late husband's memory, and her gesture is touching hearts across the internet.
Halloween 2017 started like any other one for Brandy Butzbach and her husband, Ben. The couple spent their morning talking as usual, but when Brandy had been at work for a while without hearing from Ben, she began to worry.
She tried texting and calling him, but there was no answer. Brandy couldn't take it any longer when she logged in to their cell phone account and didn't see any usage from Ben. She asked to be excused so she could check on her husband.
Brandy told Love What Matters :
"As I pulled onto my street, I got an eerie feeling and immediately, for what at the time was an unknown reason, began to cry."
"As soon as I opened the door to the bedroom I knew. He was a side-sleeper, but he was turned over on his belly with half his body off the bed. As soon as I saw him I knew. I went up and touched his toe and his toe was cold. I immediately walked out and called 911. But he was already gone."
Brandy said authorities thought ben had a heart attack shortly after she left home. "His mom had a history of heart issues," Brandy wrote but said that Ben went to the heart doctor every six months and all seemed to be well.
Sadly, ben passed away at the age of 33.
"Everything in my world just crashed. I had an emotional breakdown. From the time the ambulance came, it's like a blur to me. I don't remember everything that happened. I was having an emotional breakdown."
The idea to honor Ben's memory came to Brandy a few days after his death but wasn't emotionally ready. She decided to pose in her wedding dress with a couple of Ben's favorite things. Brandy, herself a former photographer, could not be convinced until a few months ago.
In September, she teamed up with another photographer, dyed her wedding dress gray, and had a photo shoot with Ben's beloved hockey jerseys.
Brandy said posing for the photos was emotionally draining, but even though she cried most of the time, she felt a sense of peace and calmness.
Coincidentally, she shared the photos on September 25, which would have been her and Ben's third wedding anniversary.
Brandy accompanied the images with a touching note:
"This was not just about loss and sorrow. It is about love. It is about honoring my husband, the man I planned on spending my life with."
A LOVE THAT NEVER DIES
Like Brandy, Jessica Padgett also lost the love of her life last year. Jessica and her fiancé, Kendall James Murphy were engaged to be married in September this year, but the brave firefighter lost his life in the line of duty. He was responding to a distress call when one of his colleagues, driving drunk, hit Kendall with his vehicle.
A heartbroken Jessica, along with her and Kendall's family, decided to honor the September 29 wedding date still and visited Kendall at his grave.
Jessica wore her wedding dress and posed with many of Kendall's items, including his firefighter boots and uniform. In one image, her late fiancé was photoshopped beside her.
The heart-wrenching photos where shared on Facebook and have since gone viral.
Please fill in your e-mail so we can share with you our top stories!