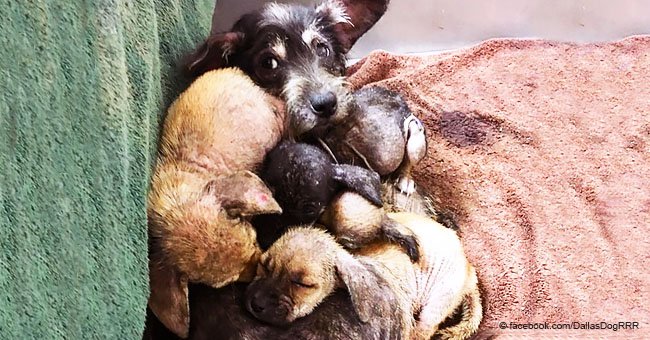 Sick mama dog at the shelter protected her puppies until the right family finally noticed them
Heidi and her four puppies lived on the streets of Dallas and were in a state of terrible abandonment. They were thin, infected with worms and with a skin condition.
For that reason, they were taken to a shelter after being found. However, one of the puppies did not survive the first night.
The mother was sick and weak, but she made every effort to keep her babies safe. They were taken to Dallas DogRRR because they knew they needed specialized care.
"The refuge rescue coordinator contacted me and sent me a picture where all the babies were crowded with their mother."
"They were scared and their mom protected them. The picture spoke of the unconditional love of a mother," Patti Dawson, president and CEO of Dallas DogRRR, told The Dodo.
Dawson agreed to help them since she knew that they would not survive otherwise. She took them all to her house to raise them temporarily. As they were 4 female dogs, she called them: Heidi Klum, Cheryl Tiegs, Elle MacPherson, and Cindy Crawford.
At first, it was a disaster. The puppies needed attention all day, and poor Heidi cried constantly for all the pain she was enduring.
After being seen by a veterinarian and receiving proper treatment this canine family of 4 began to feel much better.
During the week they stayed at Dawson's house, she had to look closely at the puppies to make sure they were okay. It seemed that they were already recovered and prepared to be adopted permanently.
Both Heidi and her puppies were playful and very affectionate; grateful to all who helped in their rescue and recovery.
"She has really come out of her shell, she is the sweetest dog and wants to be by your side, the puppies are very good, they lost some weight after being wormed, but their appetites have increased and their skin is slowly improving," said Dawson.
In another story, Dawson was also the heroine of a dog. This time it was Melody, who apparently was abandoned by its owners. She was very fragile and sad. She had just given birth to 10 puppies.
"A friend who works at the shelter sent me her photo, she knows I have a weakness for moms, I just could not stop thinking about Melody and her puppies, her willingness to survive and take care of her puppies, no matter how skinny, it's amazing," said Dawson. That's when she decided to help.
Mother's love has no barriers. In all species, what many consider 'instinct' is expressed in different ways.
In another story, you can see how a female dog and her puppies were saved from an unknown situation, and the relieved mother cried with joy when she realized they were safe.
In the video, we can see the momma dog cry while breastfeeding her cubs, while the woman who rescued the dog tenderly caresses her.
The animal's reaction has gone viral, touching the hearts of many Internet users, who only want the best for her puppies and for her.
Please fill in your e-mail so we can share with you our top stories!