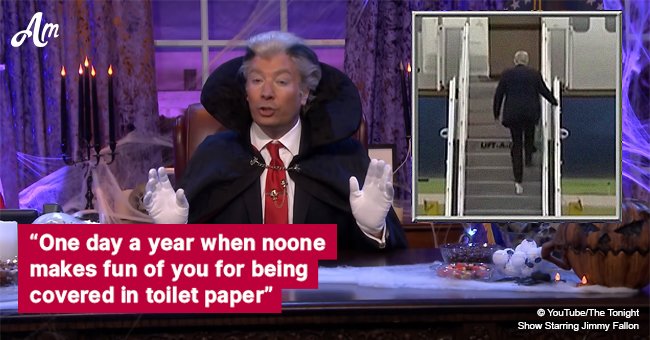 Halloween might be Trump's favorite holiday explains Jimmy Fallon in his celebration parody
Comedian and show host Jimmy Fallon parodied President Donald Trump for Halloween on "The Tonight Show Starring Jimmy Fallon." The clip started off by revealing that the president had a special Halloween message.
Fallon was seen coming out of a tanning bed with Halloween decorations strewn all over. According to the host, the holiday is Trump's favorite one.
Jimmy Fallon opens up his skit dressed as what he calls "Count Trumpula." He then announces that he's going to "suck your blood," before fake laughing.
The "president" tells American's that he's there to reach out the nation's youngest voters, "the trick-or-treaters." Throughout the parody, Fallon mimics Trump's hand gestures and facial expressions.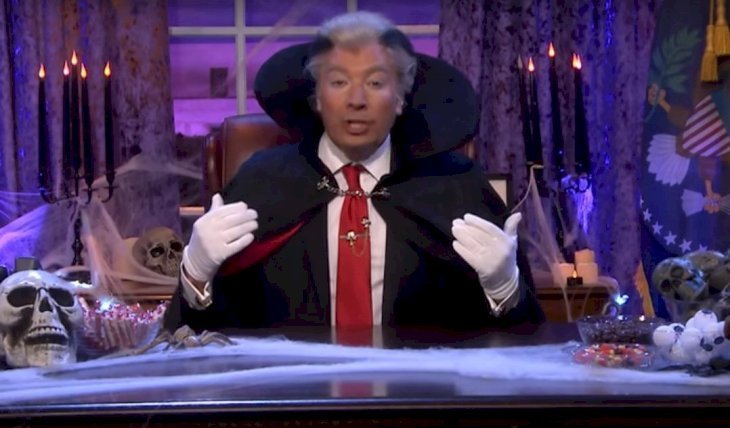 Source: YouTube/The Tonight Show Starring Jimmy Fallon
For more on this story go to our Twitter account @amomama_usa. He then goes off "script" to talk about his Halloween costume.
Count Trumpula shares with America that his vampire costume "has been a huge success." People have been yelling at him all day long saying, "You suck!"
"Dracula's a terrific person, he's a great guy. I love his style. He wears a cape, which is basically a giant tie for your back. Plus Transylvania is one of our greatest allies."
Trumpula reveals to viewers that he saved the taxpayers money by reusing the cape from his costume from last year. He shares that, at the time, he was the Count from "Sesame Street."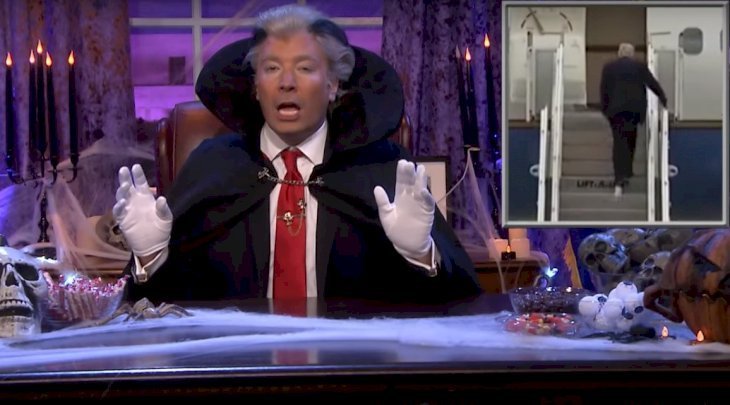 Source: YouTube/The Tonight Show Starring Jimmy Fallon
To the crowd's delight, he announces that there were "1 million, 2 million, 3 million people at my inauguration! Ah ah ah!" Then Trumpula gets to explaining why Halloween is his favorite holiday.
He shares that he loves the holiday because no one makes fun of you when you're covered in toilet paper. On the side of the screen, a gif plays showing the real Trump walking up the stairs of a plane with toilet paper stuck to his shoe.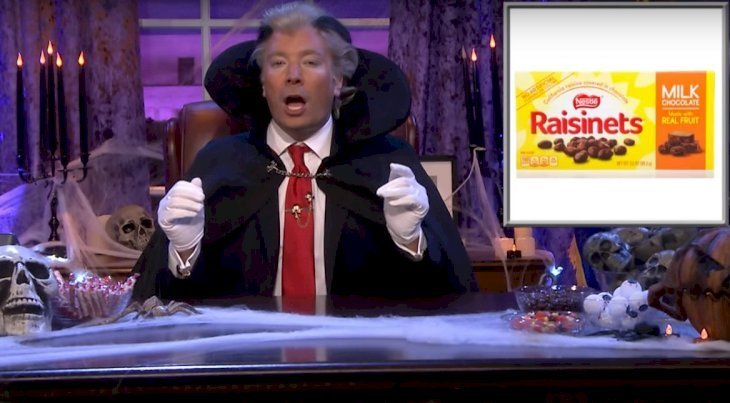 Source: YouTube/The Tonight Show Starring Jimmy Fallon
He also adds that the holiday happens to be the only one where everyone else goes on the same diet he's on. The diet just so happens to be Halloween candy.
Trumpula shares that some of his favorite candy is Raisinets, which he claims are "female raisins." The second candy he loves is candy corn.
The reason he loves it is because it has all the food groups, "candy and corn." He also eats a bag of Smarties every day to make himself "that much smartier than anyone else."
Suddenly he's disturbed by the doorbell ringing. When he opens the door, bowel in hand, he finds a trick-or-treater by the door who's dressed as a ghost.
He jokes "oh a ghost, nice try Jeff Sessions I know it's you," before handing the child a couple of Big Mac's. He announces that he has to leave because he has "47 rallies to go to before the mid-terms and I gotta get there fast."
He wishes everyone a "Happy Halloween," clicks his fingers and changes into a bat with blond hair. Trumpula can be heard in the background saying "Trick or Tweet" and the same sign appears on the screen.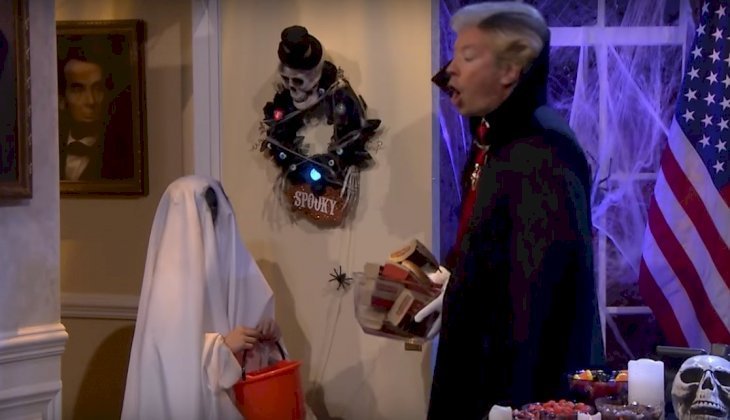 Source: YouTube/The Tonight Show Starring Jimmy Fallon
Fallon also parodies Trump in a message about the November midterms. The clip shows the fake president continuously going off-script in many "outtakes" where he manages to talk about anything but the upcoming elections.
Please fill in your e-mail so we can share with you our top stories!