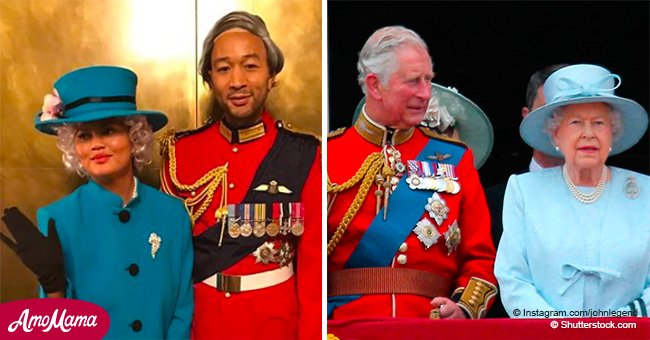 Chrissy Teigen and husband are dead ringers for the Queen and Prince Philip in Halloween photos
Chrissy Teigen and John Legend decided to go "Royal" this Halloween and their costumes are incredible.
Most celebrities choose to dress up as ghosts and ghoulies for Halloween, but Chrissy Teigen and John Legend were inspired by the British Royal Family to take a different tack.
Rather than dress up as the younger or more glamorous Meghan Markle/Prince Harry or Kate Middleton/ Prince William, the couple chose to channel Queen Elizabeth and Prince Philip and posted photos of their costumes on Instagram/JohnLegend on November 1, 2018.
"Hello, Happy Halloween to our loyal subjects."
PLAYING A COUPLE OF ROYAL LEGENDS
Legend became a dead ringer for Prince Phillip by donning a red uniform complete with a chestful of medals, and disreputable grey wig.
Teigen wore a royal-blue coat and a matching hat just like the Queen's. She completed the ensemble with black gloves and a handbag. She wore a soft curly silvery-white wig to mimic Her Majesty's hair.
ALL DRESSED UP TO STAY HOME
The couple confided that they were supposed to be attending Kendall Jenner's 23rd birthday but were much too tired to go out and party like they used to in their "younger days".
"We were going to go somewhere, but we're so tired, so we're at home."
DRESSING UP WITH FRIENDS AS THE ROYAL FAMILY
Tired or not, the Legends posed for Halloween pics with their friends Jen Atkin and Luke Dillon, dressed up as Meghan Markle and Prince Harry; and Mike Rosenthal and Meghan Mackenzie, who incarnated Prince William and Kate Middleton.
LEGEND AS PRINCE CHARMING
Earlier in the week, Legend had dressed up as another Prince - Prince Charming. His costume complemented his two-year-old daughter Luna's Princess getup.
Like her parents, Luna also had a second costume - as Belle from Beauty and the Beast.
Now that the whole Legend family seems hooked on Royal glamour, we wonder what they will do for next Halloween?
CHRISSY TEIGEN STANDS UP TO AN INTERNET BULLY
A critical woman called Heidi wrote to Teigen on Twitter telling her the photo was awful, and implying that she wasn't "magazine cover material:"
"This photo of you is quite frankly, awful. At first glance, I didn't recognize you. I know you don't give a damn, but girl if you're going to be magazine cover material, make it worth it."
Where most of us might understandably flip out and respond with some heated language, the fabulous Ms. Teigen kept her cool:
"Thank you, Heidi. in the future, I will try harder to be the best cover model. if you could please send me specific tips and tricks (or past covers you've shot for reference!) that would be so awesome."
Her response effectively cut her detractor down to size and proved that Teigen has the class and the dignity worthy of a Queen.
Please fill in your e-mail so we can share with you our top stories!