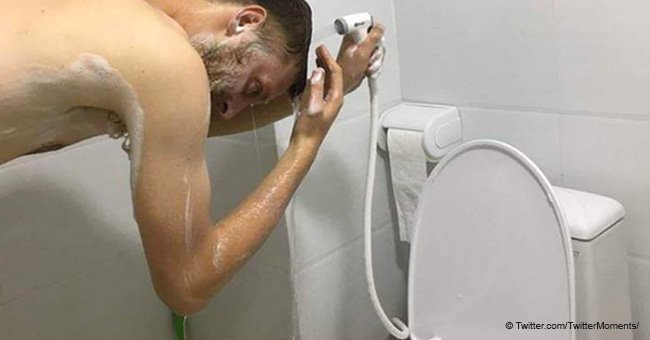 Guy complains about showers in Vietnamese hostels not knowing their actual purpose
A British traveler visiting Vietnam struggled to cope with the "showers."
Hamish Carruthers proved himself to be less than canny when he posted a complaint about "Vietnamese showers" on Facebook/ Hanoi Massive Community on October 24, 2018.
Carruthers, who had apparently recently moved to Hanoi, shared his hygiene problems on a page for foreigners living in Vietnam's capital, to the community's disbelief.
Carruther's complaint: Vietnamese showers were too "low" and you have to keep your finger on the button to keep the water flowing. Oh, and you have to rinse in the toilet...
"My only complaint is the showers. I'm all for saving water but having to hold your finger on the button to keep the water flowing seems a bit extreme."
Hamish Carruthers, Facebook/ Hanoi Massive Community, October 24, 2018.
TOURIST USED BIDET SHOWER TO WASH HIS HAIR
The man's post was received with general hilarity and disbelief by his fellow travelers. Readers found the post so amusing that they shared it in their thousands, and Carruther's faux pas went viral in just a few hours.
This is one of those little mishaps that can happen to an unseasoned traveler, some commented - while others openly mocked Carruthers for washing his hair with a "bum hose."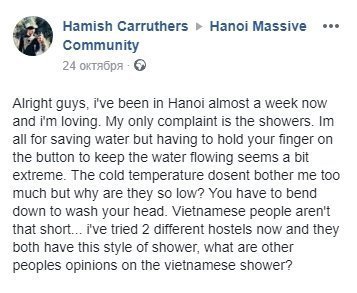 Source: Facebook/ Hanoi Massive Community
"NOT A SHOWER, A TOILET PAPER SUBSTITUTE"
Carruther's "shower" was the bidet shower provided in Vietnamese hotels so visitors can wash their nether regions after defecating. The young man's ignorance about hygiene options outside the UK saw him become a target for scathing remarks.

Source: Facebook/ Hanoi Massive Community
"THE VIETNAMESE AREN'T THAT SHORT"
One of Carruther's chief beef was that he had to bend down over the toilet to use the shower because the hose was too short. This didn't serve as a hint, because he went on to comment that "the Vietnamese people aren't that short..."

Source: Facebook/ Hanoi Massive Community
HE CHANGED HOTEL BUT GOT NO SATISFACTION
Carruthers changed hotel in his search for a "proper" shower but was disappointed to find that his new accommodation offered precisely the same equipment. It seems that it never occurred to him to just ask what the "shower" was for.
Read more on Twitter Amomama USA.
WHAT WOULD CARRUTHERS DO IN PARIS?
It boggles the mind to imagine what Carruthers would make of the new Parisian outdoor urinal facilities.
The romantic City of Lights is offering some unusual "sights" since the city fathers installed bright red "uritrottoirs" everywhere In order to control the lamentable habit French men have of peeing in public,
"Uritrottoirs" are meant as an eco-friendly alternative to men peeing in public against walls, trees or in alleys."
The "uritrottoirs" haven't been discreetly tucked away in dark corners, they are on bold display in some of Paris' most popular tourist spots.
One of the "uritrottoirs" is in front of the historic Notre Dame cathedral, in full view of tourists boating on the Seine.
Authorities defend that it is more hygienic to have urinals rather than subject visitors to the stench of urine on the streets.
Besides, the "uritrottoirs" also provide organic fertilizer for the city's gardens, authorities point out, since the receptacles wherein the urine is 'deposited' are filled with straw, and can be used for compost after decomposing for a year.
The social mores of toilet etiquette in foreign countries can indeed be quite challenging.
Please fill in your e-mail so we can share with you our top stories!