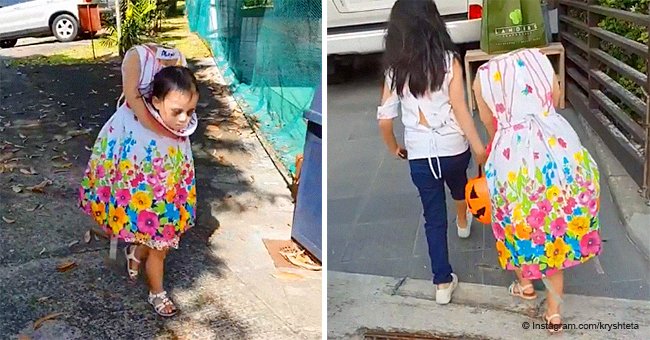 Little girl's 'headless' Halloween costume goes viral
A little girl in a "headless" costume goes viral on the internet for her frightening yet clever Halloween costume.
In the Philippines, they take Halloween on a whole other level. Mothers and fathers think of the most clever and unique costumes for their children, for them to go trick-or-treating in.
A 2-year-old girl named Maya from Southbay Village went trick-or-treating dressed up in a floral dress while carrying her bloodied head on a plate.
Maya's mom turned out to be Krystal Hwang, who shared numerous videos and photos of her daughter in the custom-made costume that she herself designed. She even made sure to share how she made the costume to see how she made the detailed look.
"For those who are asking...Yes, I did make her headless costume. Maya has been excited and super game with everything even when I had to wrap her with strips and strips of duct tape to form the fake body. What a trooper!"
During an interview that she had with Coconuts Manila, she said that her daughter played a very important role in the process of creating the scary costume, and that was what made her brave enough to wear something so gory and scary.
"People gave second looks when they saw it. They were amazed how it was even possible, but in the end, they all think it's cute and very smart."
To date, the video of a headless Maya has had almost 200 thousand views on Instagram, and people have flocked with comments of praise and admiration for the mother and daughter pair.
"@kierancherie: I'm so glad I found your page. I just had to tell you how amazing you daughter's costume is! I love that she was in character"
"@gojoola: Winner!!!"
At the rate this duo is going, we just can't wait to see her Halloween costume for next year!
Please fill in your e-mail so we can share with you our top stories!