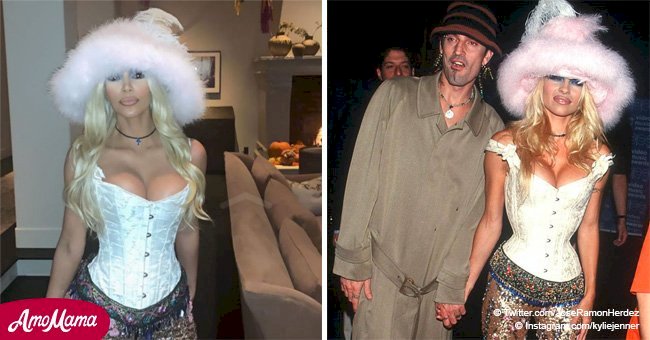 Kim Kardashian calls friends 'retarded' for not recognizing her Halloween costume
While at a Halloween party thrown by her sister Khloe, Kim Kardashian got upset with her friends when they failed to recognize her costume and lashed out by calling them retards, but the backlash she received had her apologize soon after.
Kim Kardashian attended a big Halloween party on Wednesday night that got organized by sister Kendall Jenner. Her and BFF Jonathan Cheban opted for an outfit they wore at the 1999 VMA Awards over 20 years ago. Kim dressed up like Pam Anderson and Jonathan went as Tommy Lee.
Upon arriving at the party friends failed to identify who they were dressed up as, and Kim took to social media calling her friends retarded. Not long after posting the video on Instagram the backlash from followers started.
Read more on our Twitter account @amomama_usa.
One of her fans commented:
"That was a really unnecessary use of the word retarded. I think we should all know & do better by now."
Another fan wrote:
"Sooo Kim Kardashian gets to call people retarded for not knowing wtf she was supposed to be for Halloween? Interesting, how kind and totally not cruel, am I right?"
Back in July her sister Khloe made the same mistake and apologized to their sister Kourtney for calling her a retard during a live stream. The two sisters were struggling to configure their devices, so when they had no luck, Kourtney and Khloe took to name-calling, and referred to each other as retards.
Khloe was quick to take responsibility for her short-sightedness and her apology got well received by fans.
In the meantime, Kim wrote an apology that read:
"I want to apologize for what I said in a recent video post that is inappropriate and insensitive to the special needs community. I try to learn from my mistakes and this is one of those times. Please know that my intention is always pure, and in this case, it was a mistake. I'm sorry."
The video Kim originally posted had since been removed from her account. Kim recently expressed her anxiety over recent school shootings as well.
She and husband Kanye West took part in the 'March For Our Lives' rally which was a student-led demonstration asking for tighter laws on gun control and took place on March 24 in Washington D.C.
38-year-old Kim feels hesitant to have any more children with the current state of affairs being the way it is and said:
"Just because it literally keeps me up at night thinking about how my kids will survive in a crazy world like this. Lately, there have been so many devastating school shootings. As a parent, the thought of bringing your kid to school and having them not come home because of a senseless shooting is something that definitely consumes me."
Please fill in your e-mail so we can share with you our top stories!