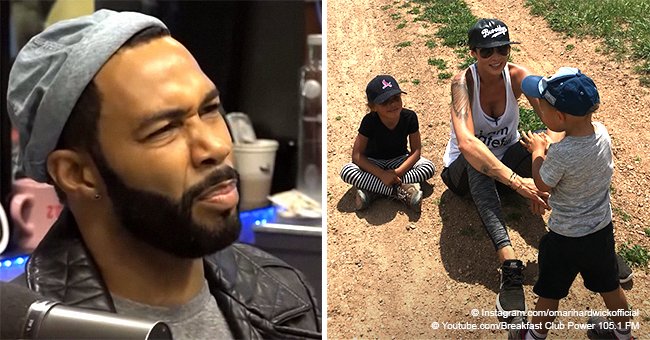 Omari Hardwick drags one fan who allegedly disrespected his family
Actor Omari Hardwick, best known for his role in "Power," talked about an uncomfortable situation a fan made him go through for disrespecting his family.
The man and Tika Sumpter went to "The Breakfast Club" radio show to talk about different things and promoting their new film "Nobody's Fool." After a long conversation, DJ Envy, one of the hosts, asked Omari to explain an incident.
Envy played the audio of a woman who had called the show previously, saying that she saw Omari and tried to get a picture with him, but he refused, saying that he was spending time with his family.
THAT LADY'S VERSION
The fan said that the actor was aggressive and that she never got that photo. While in the show, Omari revealed that he certainly said no and that the woman stayed there looking at him saying, "really?" several times. The video contains strong language.
OMARI'S DEFENSE
He replied, "really, I'm with my family. God bless you." Calmly, Omari said that the lady was disrespectful for not accepting that he was a human being who could say no, and for not even acknowledging his family who was right next to him.
GETTING ANGRY
After saying that he would have taken a picture with her if he were alone, he got a bit upset while talking about his wife, Jennifer Pfautch. Using expletive words, he said that Jennifer saved his life because he was broken and she did all she could to help him.
Later, Omari urged that fan to "relax and acknowledge her enough." DJ Envy, Tika, and the rest of the people who were in the show agreed with Omari, as every human being is entitled to say no, especially if they are spending quality time with their family. Before going to the show, he addressed the situation on Instagram as a user asked about it.
DIGGING INTO OMARI'S RELATIONSHIP
Omari and Jennifer dated for some years before tying the knot in 2012. So far, the couple has had two children, whose names have not been revealed. The actor is well-known for keeping as many aspects of his life and his family's life as private as possible.
JENNIFER'S BEAUTIFUL PHYSIQUE
Recently, Jennifer surprised her followers by posting a pic of her rocking a nude mini dress and turban. Apart from that fact that she looked gorgeous, she took her time to share some important advice for everybody.
"Don't let your thoughts run you... they'll always push you in the wrong direction. Let your thoughts follow your soul... its only purpose is to lead you to truth," wrote Jennifer.
Please fill in your e-mail so we can share with you our top stories!