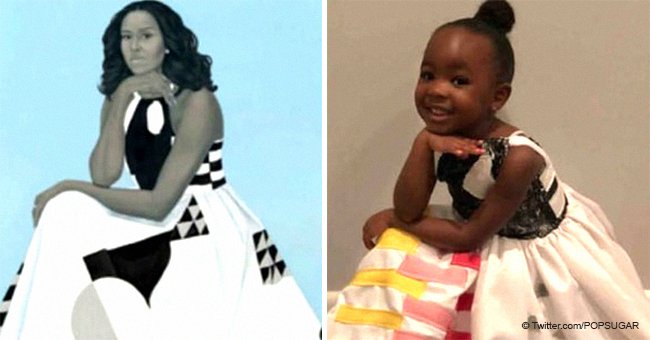 Toddler who admired portrait of Michelle Obama dresses up as former First Lady for Halloween
This little girl who looks up to Michelle Obama dressed up as the former First Lady for Halloween, and it was too cute not to be noticed.
Michelle Obama herself responded to a post on Twitter of a little girl posing as her for Halloween, as imitation is indeed the most sincere form of flattery.
Three-year-old Parker Curry decided to dress up as Michelle Obama for Halloween. It was a couple of months back when Parker looked amazed while staring at the former First Lady's portrait at the National Portrait Gallery in Washington, D.C., and that photo went viral. Later that month, Parker and Mrs. Obama met up to dance along to songs like Taylor Swift's "Shake It Off".
Last Wednesday, Parker had yet another moment with Michelle, when her proud mom shared a photo of her posing with the photo she admired. Sporting an imitation of the dress the former First Lady wore in the portrait, Parker posed right in front of the image, giving her best portrayal of Obama.
Her dress was custom-made for the occasion by Alisha Welsh of the Magnolia Lake Children's Clothing, and now that Parker has yet again gone viral, so has her creation.
Posing as Mrs. Obama, Curry sat with her chin rested on her hand, while leaning on her knee exactly like how the portrait has Michelle looking.
While speaking to Buzzfeed News, her mother Jessica Curry said that when she asked Parker what she wanted to be for Halloween, the little girl already had an answer.
"Flat out. No hesitation. Half of a second later. 'I want to be Michelle Obama,' and I was like Whoa. I thought she was going to be like, 'I want to be Elsa or some other character like that.'"
Michelle Obama is definitely a good role model for young girls like Parker, and the fact that as early as now, she is so interested in empowered women like Michelle will definitely help in the way she is brought up to be an empowered woman herself.
Please fill in your e-mail so we can share with you our top stories!