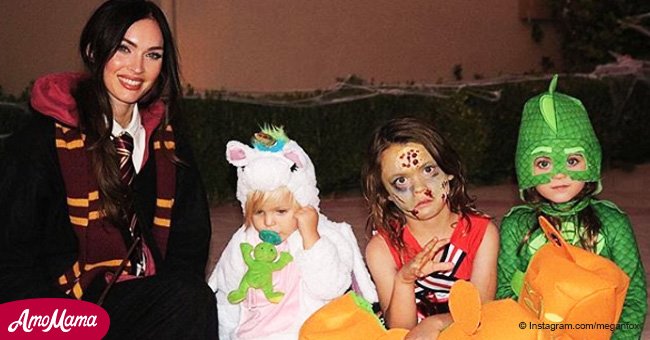 Megan Fox shares extremely rare photo of all three of her sons in cute Halloween costumes
The 32-year-old actress joined her three sons and her husband's son Kassius for a night of trick-or-treat and was seen in a "Harry Potter" themed costume in a photo she posted on her Instagram.
Fans of "Teenage Mutant Ninja Turtles" star Megan Fox had the rare opportunity to see her children with 45-year-old actor Brian Austin Green in their mother's social media after she shared pictures from a family Halloween night out.
Fox is known to seldom post images of her children to Instagram, but she didn't keep from showing how adorable her children looked in their costumes. Read more on our Twitter account @amomama_usa
In a photo slideshow she uploaded on November 1, the mother-of-three appeared wearing a Gryffindor robe next to 6-year-old Noah, dressed as a zombie cheerleader, 4-year-old Bodhi, wearing a reptile suit, and 2-year-old Journey, who went as a unicorn.
"Happy Halloween," the actress simply captioned the three-picture post. Fox's nephew and Green's 16-year-old Kassius joined the fun, and the two wore wigs and period clothes as they posed with her.
Although the post has more than 400.000 likes, there are no comments about it as the comments section was turned off for the publication, and given the recent criticism Fox has faced in the pass for the look of her children.
Even if many other fans replied to those who found it wrong for her to let her sons leave their hair long by defending the star and taking a stand for the right to every child to express himself or herself beyond gender conventions, Fox was obviously not happy with the unnecessary controversy and was not letting this happen this time.
As much as she wanted her children to express themselves by wearing the clothes they feel like in a gender non-conforming way she didn't leave any chances open for people who question her parental decisions to conform with a social standard.
In October 2017, Fox was photographed in a day out with her son Noah, and they became the center of much negative attention from conservative people since her first born was wearing a Disney princess dress.
It was not the first time when Noah wore dresses in public, and his parents have been vocal about how they support him in his choices.
"If he wants to wear it, then he wears it. It's dresses or goggles or slippers, whatever. It's his life. They're not my clothes," Noah's father Green told Hollywood Pipeline back then.
Please fill in your e-mail so we can share with you our top stories!