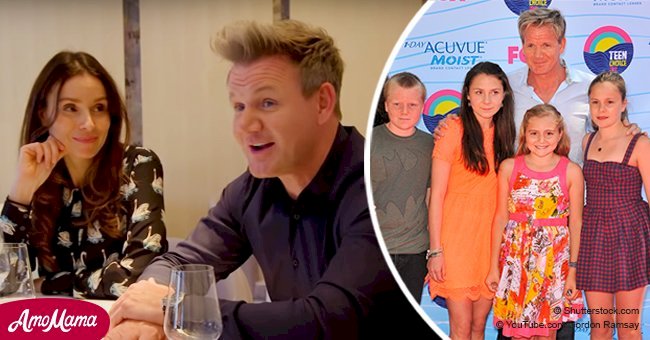 Gordon Ramsay is ready to cry after seeing a surprise dinner his kids made for his 50th birthday
The world-famous chef, Gordon Ramsay, was nearly brought to tears when his children surprised him with a heartwarming 50th birthday party. The surprise party was filmed and the video, shown below, was posted on Youtube.
While Chef Ramsay is usually associated with expletives and epic oneliners aimed to put people in their places, he is very different when he's with his family. The "Hell's Kitchen" owner might be tough in the kitchen, but at home, he is putty in his childrens' hands.
His children decided to surprise him with a special surprise for his 50th birthday. They threw him a heart-melting birthday party.
The party was attended by Ramsay's parents and all his children. The surprise started with his oldest daughter driving him and his wife to the party in a black taxi.
The kids had booked an empty restaurant to host the party. Matilda, Holly, Megan, and Jack took it upon themselves to cook the feast.
They served a stunning three-course meal that exceeded expectations. The meal included a very theatrical chocolate dome dessert that melted under a hot chocolate sauce that they poured over it.
The chef was blown away and kept repeating the word wow throughout the meal. The meal started with a ravioli dish, followed by a steak filet and finally that show-stopping dessert.
But the meal wasn't the only part of the surprise. The evening was ended on a delightful trip down memory lane when the children pulled out a video they compiled with pics of their dad.
While looking at the images, the chef made a quick joke about his haircut to which his mother replied that she had used her mixing bowl to cut it. His kids also joked with him about some of the pictures.
Most notably though, the usually tough chef seemed to melt more and more as the meal went on. He even stated, "I'm quite emotional, I may cry."
Now 50 years old, Chef Ramsay is a very proud father of four children. While they spoil him, they've also made him aware of his aging.
He recently admitted that he had some cosmetic surgery. He claimed that he was starting to get self-conscious about his wrinkling and when his kids started asking about them he knew he had to do something about it.
His four kids are working hard to keep the chef looking and feeling as young as his spirit is.
Please fill in your e-mail so we can share with you our top stories!