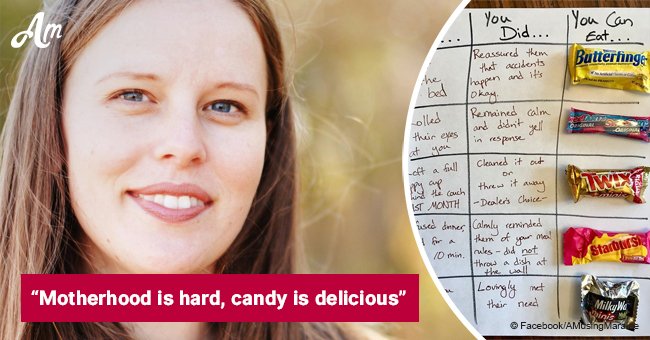 Mom goes viral for a hilarious chart showing what candy she can eat for her motherhood feats
Maralee Bradley taught other parents a thing or two about rewarding oneself for their small successes in raising their children.
A blogger and mother based in Nebraska, Bradley became viral on Facebook after she posted a funny, but witty, photo about motherhood.
While some adults relentlessly worry about the number of calories that are found in fun-sized candy bars, Bradley said she has no time to care about those.
She shared a funny candy chart on social media, which might inspire other parents and might make them want to follow suit.
Follow us on Twitter at AmoMama USA for more viral stories and photos.
Using a piece of paper and what was probably left of their Halloween candy, Bradley devised a chart where she wrote certain things to do as a parent. When she achieves a milestone, she rewards herself with chocolate.
"Around Halloween, I kept seeing this picture go around that listed different candies, their calorie count and what kind of exercise you should do to burn them off," she wrote.
"Um, no thank you. Motherhood is hard enough without candy guilt. So I whipped up this little chart to put a bit of a different spin on it," continued Bradley.
For a busy mother like Bradley, she claimed that she has no time to feel guilty about what she eats and that she chooses to reward herself with her small but significant achievements as a parent.

Source: Facebook/ A Musing Maralee

Source: Facebook/ A Musing Maralee

Source: Facebook/ A Musing Maralee
"Motherhood is hard, candy is delicious, and maybe it's okay to sometimes give ourselves a little reward for being awesome moms," she
said
.
Although her post might be a joke, her reason behind doing it is quite solid.
"No amount of candy can 'burn off' the stress and frustration of your average day of motherhood, but I'm not going to say it doesn't help," Bradley finally wrote.
As for those parents who are, in fact, conscious about all the calories they acquired by scarfing down one too many candy bars during Halloween, Pop Sugar shared a chart showing the calorie count of each of your favorite candy.
On top of the list, with a calorie count of 130 is Snickers (Peanut Butter) with seven grams of fat and 12 grams of sugar. The candy with the lowest calorie count is SweeTarts with just ten plus zero fat and less than three grams of sugar.
Please fill in your e-mail so we can share with you our top stories!