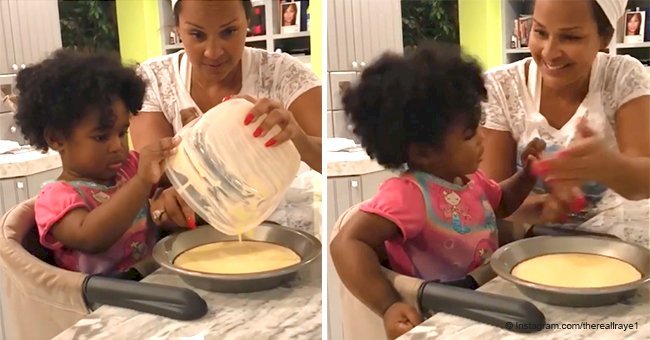 LisaRaye McCoy shares heart melting video of her cooking with her curly-haired grandbaby
LisaRaye McCoy is having the time of her life as a first-time grandmother, and she can't stop gushing about her adorable granddaughter, Bella Rae. In a recent Instagram video, the pair was caught cooking some cornbread for dinner.
Baby Bella has been featuring on the actress' Instagram more and more in the past few months. The 1-year-old is stealing her grandma's fans with her cute smile and adorable outfits. In one of the most recent videos shared by McCoy, Bella is learning to cook with her help.
The adorable pair is engrossed in their cooking while Bella's mom, Kai Morae, is recording them on her phone. Lisa can be seen standing next to Bella, who's sitting on her baby chair on the kitchen counter, as she learns how to whisk the batter.
The girl is wearing a pink outfit and polka dotted pink shoes with her curly locks falling on the sides of her face. Lisa, on the other hand, looked comfy in a white t-shirt and gray leggings.
"Yeah! Big girl!" Kai can be heard in the background of the video. "You're cooking with granny?" she asks, and Bella just hums, not losing her focus from the task at hand. "I'm holding it," the girl babbles, as she helps Lisa put the batter on a baking sheet.
"Big girl!" exclaims Kai once Lisa and Bella are done, as the actress smooches the baby's cheek and she smiles sweetly to the camera.
FANS' REACTIONS
"WE made cornbread with our dinner tonight. @babybellarae #LifeRocks #GrandmotherLove #InTheKitchen" McCoy captioned the clip.
Fans immediately took over the comment section to share their thought on the heartwarming video:
"This is so precious she's such a beautiful baby doll." - @theartisdawkins
"OMG!!!! You're a Granny!!! Lisa she is ADORABLE!!!!" - @joycemarie422
"I see that you LOVE being a glam ma as well. There's no greater feeling like it!!!! LOVE IT." - @skynmjs_nana
"That look you both gave each other...heart melted." - @ilovemusic84
FAMILY TIME
Now that Lisa is back to the single life after she called off her one-month engagement with Anthony Bryant, the "Single Ladies" star has more time to spend with her family.
A few days ago, she melted hearts after sharing a pic of baby Bella dressed as a cute strawberry for Halloween, and she also took the girl to the Rise Lantern Festival near Las Vegas, where they shared an exceptional moment releasing paper lanterns into the sky with their wishes and goals written on them.
Bella even scribbled some drawings on the lamps, and Lisa couldn't contain her excitement, breaking down in tears at the special moment.
Please fill in your e-mail so we can share with you our top stories!