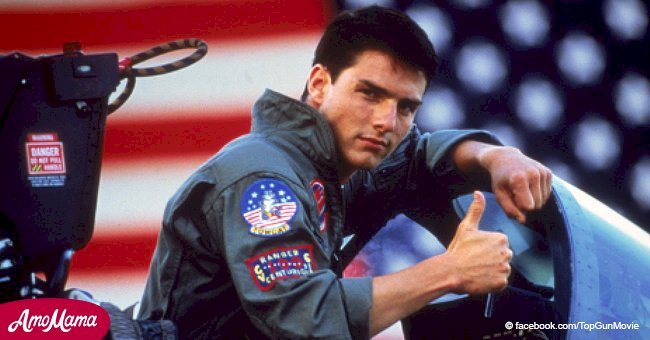 Tom Cruise to fly fighter jets in new 'Top Gun' sequel
Tom Cruise continues showing the grit and determination of his generation by insisting on learning to fly fighter jets so he can make sure stunts look as "realistic as possible" in the Top Gun sequel.
Tom Cruise, 56, has stopped production of the much-anticipated sequel of the cult film "Top Gun" to upskill himself on piloting fighter jets.
Cruise is already a licensed pilot but he does not have the required certification to fly fighter jets. According to an insider:
'He won't film all the flight sequences — it's too dangerous — but he will fly some, making him the first actor in cinema history to do so. The producers would prefer not to put their leading man, not to mention their whole film, at risk.'
The Maverick himself is used to performing his own stunts and is unconcerned that production may be stopped for months while he acquires his training.
Cruise notably scaled the 2,700ft Burj Khalifa in Dubai for "Mission: Impossible - Ghost Protocol" and performing a "high altitude, low opening" jump out of a plane for the movie "Fallout."
Tom broke his ankle in 2017 while filming "Mission Impossible 6" after jumping from a London building. The break set production back seven weeks while his ankle healed.
His co-star Ving Rhames at the time admitted he thought the Hollywood icon was getting too old for his own stunts.
'I know he loves doing his own stunts, but as a friend, after we get the close-up, maybe we should let the stunt guy do it. Maybe.'
This move stands to delay the awaited sequel for a year and will result in huge costs for the production company, something they are apparently willing to bear.
'They also wouldn't choose to have their long-awaited sequel delayed nearly a year, but despite the huge insurance costs they are willing to do what it takes to ensure Tom is happy.'
What moviegoers may not have anticipated is that he will be recreating one of the most iconic scenes three decades later with one major difference.
Jennifer Connelly will be joining the 56-year-old Cruise on the back of the bike since Kelly McGillis, now 61, is not taking up the mantle of Charlie in this sequel.
With all things going according to plan, "Top Gun: Maverick" will hit theatres on June 26, 2020, instead of the July 2019 release date initially hoped for.
Please fill in your e-mail so we can share with you our top stories!