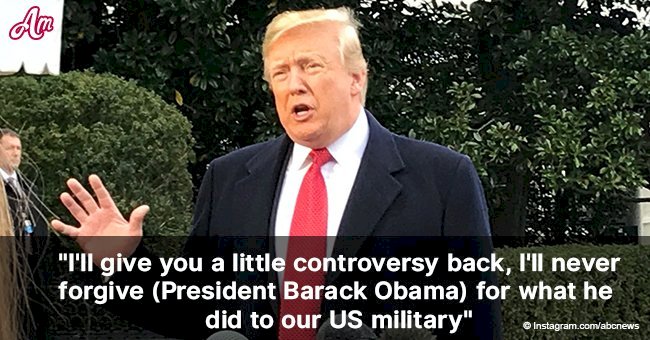 President Donald Trump responds to Michelle Obama
President Donald Trump reacted to Michelle Obama's memoir with an accusation about US military forces.
Former first lady Michelle Obama's memoir "Becoming" will be launched on November 13, 2018, but sneak peeks at the contents are setting Washington on fire.
One of the first to react to Mrs. Obama's book is President Donald Trump, whom the former first lady accuses of putting her family in danger, reported ABC News on Instagram, on November 9, 2018.
"She got paid a lot of money to write a book and they always expect a little controversy."
THE PRESIDENT'S RESPONSE HITS AT BARACK OBAMA
President Trump was questioned by journalists with regards to Mrs. Obama's assertion that she would never forgive him for his part in the "birther" conspiracy
This was an insinuation, later repeated by Trump that Barack Obama had not been born in the USA, and questioning the validity of his birth certificate and passport.
"DONALD TRUMP (…) WAS PUTTING MY FAMILY'S SAFETY AT RISK. AND FOR THIS I'D NEVER FORGIVE HIM."
The former first lady explained that Trump's declarations with regard to her husband's origins might have set off violent fanatics, and might have even triggered an attack on her daughters.
TRUMP RESPONDS WITH AN ACCUSATION
The President lashed out in response, saying that he would never forgive Barack Obama for depleting the US military by underfunding the armed forces. He then declared that he was spending a "lot of money" to keep America safe.
MICHELLE OBAMA'S MEMOIR
The former first lady's memoir is published by Crown and will be launched in 24 languages all around the world. One million copies of "Becoming" will be donated to First Book, a nonprofit organization which provides books to underprivileged children.
SHARING HER WHITE HOUSE EXPERIENCE
Michelle's book recounts her experience as a first lady in the White House, and her struggle to balance her new duties with her role as the mother of two little girls - a daunting task.
According to excerpts published ahead of the book's launch, Michelle revealed that she had had a miscarriage and used IVF to conceive their two daughters.
Michelle also speaks about her work and about how her childhood in Chicago molded her character. There will possibly be even more "controversial" issues cropping up, and the former first lady's memoir seems set to become a best seller.
Please fill in your e-mail so we can share with you our top stories!