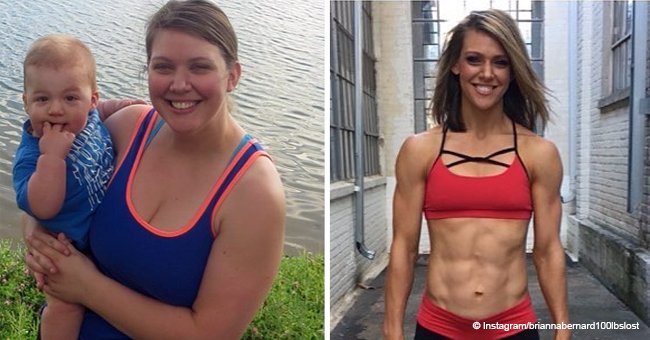 Minnesota woman loses 107 pounds in a year and shares her 7 weight-loss tips

Brianna Bernard gained 70 pounds during her pregnancy, but she found a way to lose it - and keep it off.
When Brianna Bernard had her first baby she gained 70 pounds, reported PopSugar.com on July 29,2018.
The 32-year-old was resigned to her weight when she picked up a copy of People Magazine and read an article titled "How They Lost 100 Pounds."
The story of a woman from her town who had lost 130 pounds inspired her, and she decided to turn her life around.
"If this gym and this man could have such a profound impact on this woman's life and health, then maybe he can help me, too."
Brianna Bernard, PopSugar.com, July 29,2018.
TAKING CHARGE OF HER LIFE
Brianna contacted the personal trainer who had helped the woman she'd read about, Jason Burgoon, owner and lead trainer of Bodies by Burgoon.
Brianna started working with Burgoon, training with him three times a week doing total-body weightlifting, plyometric movements, and boxing.
IN ONE YEAR SHE LOST 100 POUNDS
In just one year Brianna lost 100 pounds and gained in enormous energy and wellbeing. The change in her life inspired her to become a personal trainer and nutrition coach and help others.
BRIANNA'S NUTRITION ADVICE: 7 TIPS FOR WEIGHT-LOSS
Brianna's nutritional advice is simple: eat clean. This means consuming lean proteins, lots of vegetables, healthy fats, and fruit.
Brianna eats 8 small meals a day and drinks 3.8 liters every day. She also prepares all her day's meals in advance and always carries her snacks with her so she won't be tempted to eat "forbidden" foods.
Read more on our Twitter account Amomama USA.
LOW SUGAR, NO CARBS
The dieter's greatest enemy is hunger, as Brianna discovered during her many failed attempts at dieting. The first step should be to reduce the intake of sugar and carbohydrates, which reduces hunger levels considerably.
Removing sugars and carbohydrates from your diet reduces the appetite, lowers insulin levels. A well-balanced meal should always include a protein source, a fat source, and low-carb vegetables.
Healthy protein sources include beef, chicken, pork, and lamb; seafood such as salmon, trout, shrimp, etc. and whole eggs, yolk included.
The recommended vegetables include broccoli, cauliflower, spinach, tomatoes, kale, brussels sprouts, cabbage, swiss chard, lettuce, and cucumber.
Although many people still see fat as the enemy, healthy fats are essential for weight loss and maintenance, and healthy fats such as
Please fill in your e-mail so we can share with you our top stories!