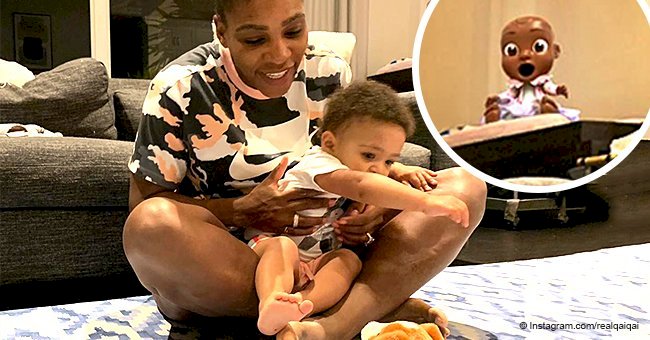 Serena Williams' baby Olympia ignores her 'daughter' Qai Qai, plays with a new toy in photo
If you follow Serena Williams on social media, you know by now that her daughter Olympia has a child of her own. Sadly, Olympia is now ignoring Qai Qai, but it is what fans are telling Qai Qai that has us laughing like never before.
In a photo shared to Qai Qai's Instagram account, Serena sits cross-legged on the floor and holds Olympia in her lap. The tennis champion, who looks laid-back in a camouflage Nike T-shirt, has her hands full as the one-year-old struggles to wriggle free.
Something else has Olympia's attention, and it's a stuffed dog with white and brown patches. Even though the toy has its back to the camera, it still looks like a cute companion any child would love to have.
Sitting on a table in the background is a shocked Qai Qai. Those who know Olympia's "daughter" will recognize that the face in the picture is probably a product of Photoshop or something similar, but the message is clear all the same.
As Qai Qai laments in the caption:
"It's like she doesn't even see me anymore."
With 35,000 followers, Qai Qai's comment section was filled with consoling words from people who know her history with Olympia.
The daughter of Serena Williams and her Reddit co-founder husband, Alexis Ohanian still has her mother picking up after her, but somehow, also thinks she can care for a child.
The result? Qai Qai is always in danger. If she's not wedged between two chairs, she's being dropped by her "mother" or carried upside down.
The other day, self-proclaimed "grandma," Serena, shared a photo of Qai Qai with crutches and in a leg cast. So, for many people, Olympia ignoring Qai Qai is a good thing. Check out only a few of the hilarious comments below:
"Don't worry @realqaiqai he will be old news by the next post."- @shedoll77
"Count it as a breather, Lil' Qai. Sis is a handful; you need every break you can get."- @rowsbelle
"Yup Qai they move on pretty quickly to the next shiny flashly toy. You will always be her first luv"- @duchessdee316
"This time away will allow you to fully recover! She'll be back and you will be so strong!"- @jilllewey
Meanwhile, Serena confirmed Olympia's habit of doll mistreatment when she told reporters at a press conference in August that she, as Qai Qai's grandmother, has had to take on most of the responsibilities related to raising Qai Qai.
Fortunately, Serena takes it all in good faith. In a September interview with PEOPLE, she agreed that being a mom can be challenging but says, "It is the challenge that makes it fun!"
Please fill in your e-mail so we can share with you our top stories!