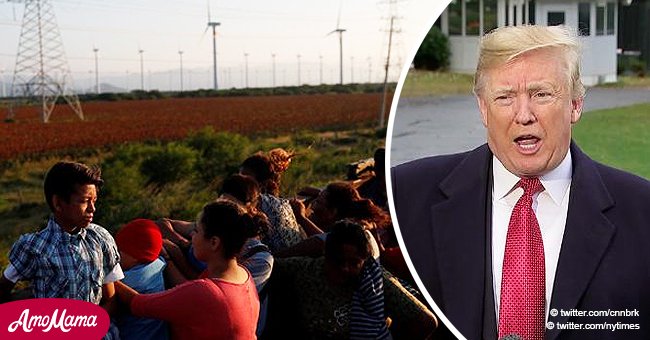 President Donald Trump signs immigration order on asylum
Earlier today, POTUS signed an order to halt migrant asylum-seekers from entering the USA.
According to Trump, migrants may still enter the country but "through the proper entry points." While that sounds good on paper, the order is flawed.
Read more on our Twitter account, @amomama_usa. Immigration activists say that Trump's administration deliberately slows the process down at entry points.
The busy ports of entry already have long lines and waits, forcing immigration officials to tell some migrants to turn around and come back to make their claims.
Asylum seekers applying for access often wait for days, if not weeks, before all the red tape has been cleared.
Trump has been using fear-mongering tactics over the past week with regards to the migrant caravan making its way to the United States.
Because of that, his supporters are now praising him for clamping down on the "immigration situation."
Pro-immigration groups will likely challenge the order in the court, saying that the order "contravenes existing U.S law and unfairly restricts asylum protections for those fleeing persecution and violence."
Omar Jadwat from the American Civil Liberties Union's Immigrants' Rights Project said it was outright illegal. He explained:
"U.S. law specifically allows individuals to apply for asylum whether or not they are at a port of entry. It is illegal to circumvent that by agency or presidential decree."
With illegal immigration hot on everybody's lips at the moment, Trump's supporters are praising him for putting Americans first again.
President Trump is also warring with former First Lady Michelle Obama after say wrote in her memoir that she could not forgive him for the birther conspiracy.
She said he placed her family lives in danger with his "loud and reckless innuendos." She asked:
"What if someone with an unstable mind loaded a gun and drove to Washington? What if that person went looking for our girls?"
Trump responded that he, in turn, cannot forgive President Obama for what the former head of state "did to the American military." Trump claims that he had to reportedly "fix it."
Please fill in your e-mail so we can share with you our top stories!