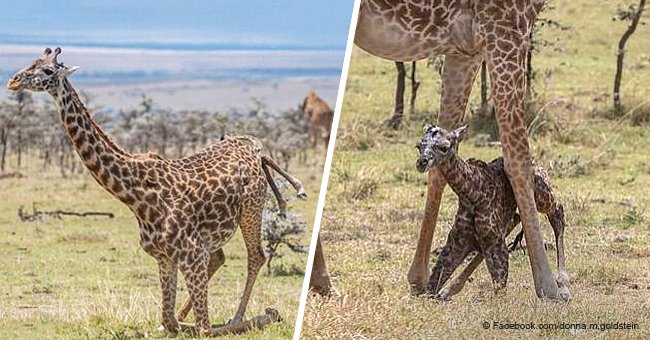 Incredible moment giraffe gives birth and baby takes its first steps moments later
A British family got to presence from afar the moment in which a giraffe gave birth on its natural habit. They also witnessed the baby's first steps.
Is not every day that one can witness such an amazing gift of nature, but Paul Goldstein, his wife Donna and their 11-year-old son Joshua, were at the right place in the right moment, and they captured the incredible images to share it with the world.
The family, from Wimbledon, London, was taking a ride along Kenya's Olare Motorogi Conservancy when they spotted the giraffes. Goldstein, who's a professional photographer and tour guide, told Daily Mail that he noticed one of the giraffes was behaving strangely, and he understood why when he saw the baby's calf pocking out of her.
He turned off his engine and waited patiently for the 2 hours that the birth lasted. After the baby fully emerged, its mother made sure it was okay before standing protectively over the vulnerable creature.
After 30 minutes of being born, the baby giraffe took its first, wobbly steps, looking for shelter under its mother's figure and staying there as it took in the world around. Goldstein explained that:
"At this age, a Bambi-like giraffe is very vulnerable, particularly to lions, hyenas, and leopards. It was both humbling and invigorating as giraffe numbers have declined, so any additions are welcome."
"The tenderness shown by the mother and indeed aunts and cousins coming to poke their necks in, was both touching and fascinating. The calf is currently doing well. It will take me a few more days to recover!"
You can watch the video on this link.
WARNING: Video contains graphic content and may disturb some viewers.
ANOTHER ANIMAL GIVING BIRTH IN THE WILD
Is rare to catch a dolphin giving birth in the wild, but lucky passengers aboard a dolphin-watching boat in Australia got to witness the birth of a dolphin's calf. While cruising around Mandurah, the group spotted a dolphin known as Squarecut splashing and spinning around.
Volunteers from the Mandurah Dolphin Rescue Group had been monitoring the dolphin, and they knew she would be having a baby soon. So they were getting ready to make sure she was ok.
After an hour of the dolphin writhing around in the water, the baby's tail started to emerge. A few moments later, the bay dolphin made its grand appearance.
"Dolphins are like our little family here, and so to witness a dolphin birth, it was truly an incredible experience for me," Robyn Bickell, a dolphin rescue volunteer, told ABC News.
Please fill in your e-mail so we can share with you our top stories!