Cat displays strong feelings after sniffing the scent of his late best friend one more time
The show of love that a cat has had with his deceased dog-brother has touched the hearts of thousands of users of social media.
Emma Catanzarite had a Golden Retriever dog named Sam, who unfortunately died a few months ago leaving all the members of the family with a deep pain in their hearts, and among them, Zeus the cat.
As the Dodo reported, Zeus is an adorable black cat who loved the company of his old friend. Although both the dog and the cat had an effusive relationship, it is undeniable that both enjoyed having each other.
Sam did not let Zeus huddle with him, but sometimes he let him use his bed and the dog was content to sleep on the floor. The truth is that Zeus was never far from where Sam was, and even if they did not play, they loved being together.
After Sam died, Zeus has been very lonely and usually chases anyone who is in the house from one place to another. The cat even began to meow at night as if he were looking for his friend. Follow us on Twitter to learn more.
Sam's old collar had been kept in one of the bookshelves of the house; the cat was snooping around the place when he suddenly discovered the familiar smell. Without thinking twice the animal jumped on the collar and began to rub against it.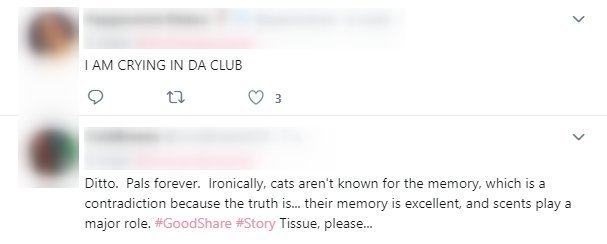 Clearly, Zeus had not only recognized Sam's scent, but he also showed that he missed him deeply. It is incredible that an animal is capable of expressing feelings as noble as mourning.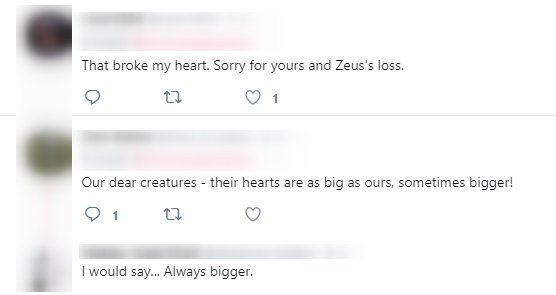 This reminds us of the story of little Paquito, a chihuahua who lost his human father several years ago but could never forget him.

Some of Paquito's aunts were taking out some stored boxes and one of them contained clothes from his deceased owner, just as Paquito felt the smell of his dad, he began to rub against his clothes and did not want to separate from his belongings.
Con eso de las lluvias sacamos cajas y todo para limpiar y de esas cajas una era de pura ropa de mi tío (ya falleció) y era el dueño de paquito (el perrito) desde que sacamos la ropa no se despega de ella😕❤️❤️ pic.twitter.com/xsA5JXPrtv

— Evlyn (@evlyncastro16) September 21, 2018
Paquito was especially close with his dad. The two did everything together, and they shared an incredible bond. Paquito's display of love touched the heart of many, it was clear the pup still shared an incredible bond with his late owner.