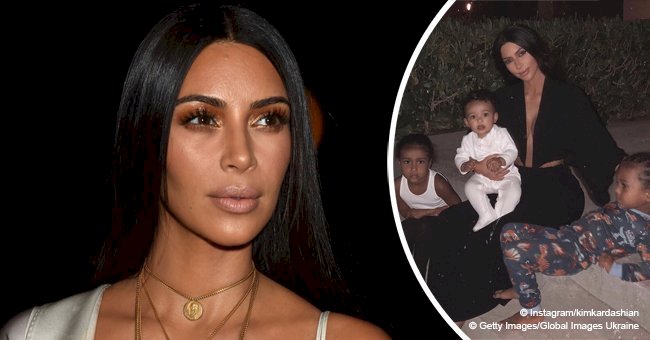 Kim Kardashian goes braless as she flaunts plunging cleavage in rare photo with all 3 kids
Kim Kardashian took to Instagram on Thursday to post yet another in a series of racy photos over the last few months.
In this photo, featuring all three of her children, Kim is seen sitting on steps surrounded by her children. She holds baby Chicago on her lap while her daughter North and son, Saint flank her. Smiling at the camera you can't help but notice her clothes.
Wearing loose-fitting black pants and a large-sleeved top that only partially covers the front of her chest, you can't miss the cleavage.
A 20-pound weight loss brought on by a strict diet and bodybuilding resulted in Kim having a much thinner frame and a toned physique. Her recent range of racy photos could be a result of Kim feeling good about how her body looks lately.
Shortly before the 'March For Our Lives' rally, Kim announced on 'Keeping Up With The Kardashians' that she and Kanye West plan on taking their eldest daughter North to the rally held in Washington DC.
Kanye and Kim saw it as a way to support an important cause for them but also a good lesson to teach North, hoping it will be a moment her daughter won't forget, and Kim added:
"Kanye is from Chicago and he always talks about the gun violence and with everything that's going on in the world, we just wanted to do something and be a part of something we both really believe in. If we just speak up and get things done, I think we can change the world for the better."
The outfit Kim wore to BeautyCon held on July 15 in Los Angeles would be a good example of one of her earlier worn racy outfits. She attended BeautyCon wearing a shoulderless, long sleeve crop top that knot ties in the center of her chest with matching shorts and strappy heels.
Kim and her daughter got their hair done the same and North wore a black dress with feather-like detail on the chest. A day of beauty for the matching mum and daughter spending some alone time together.
Please fill in your e-mail so we can share with you our top stories!