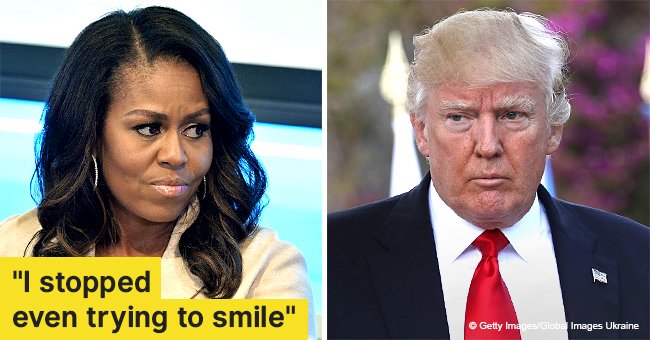 Michelle Obama reveals how she really felt about Donald Trump becoming president in new memoir
Michelle Obama gets candid about what she really thought about President Donald Trump's election win in her latest book. She reveals what made her stop smiling and why she will never forgive the US president.
Michelle Obama's latest memoir, "Becoming" is an intimate look into her deepest stories, some of which she's never shared before. She recently sat down with "Good Morning America's" Robin Roberts and opened up about some of these unexplored topics. One of these was her reaction towards President Donald Trump's election win.
WANTING TO "BLOCK IT ALL OUT"
In a rare moment, Michelle opened up about her not-so-distant past when she harbored ill feelings towards the current US president. Asked by Roberts how she reacted to Trump winning as president, she said,
"Being the commander in chief is a hard job. And you need to have discipline and you need to read and you need to be knowledgeable. You need to know history, you need to be careful with your words. But voters make those decisions. And once the voters have spoken, you know, we live with what we live with."
Michelle may have downplayed her reaction on television, but in her book, she disclosed how disappointed she was at the turnout of the elections. When it was clear Trump had won, she said she wanted "to block it all out and go to sleep."
CLAIMING TRUMP IS A "MYSOGINIST"
Michelle was particularly bothered by how the people, particularly women, responded to Trump. She didn't understand why many women rejected Hilary Clinton and opted for a "mysoginist" instead.
"I will always wonder about what led so many women, in particular, to reject an exceptionally qualified female candidate and instead choose a misogynist as their president."
WHY SHE STOPPED SMILING
Michelle likewise revealed her thoughts on inauguration day watching her husband turn over his seat to Trump.
"The vibrant diversity of the two previous inaugurations was gone…Someone from Barack's administration might have said that the optics were bad—that what the public saw didn't reflect the president's reality or ideals. But in this case, maybe it did. Realizing it, I made my own optic adjustment. I stopped even trying to smile."
WHY SHE WILL NEVER FORGIVE HIM
In 2011, Trump questioned Barack Obama's citizenship which Michelle also addressed in her book.
"The whole thing was crazy and mean-spirited, of course, its underlying bigotry and xenophobia hardly concealed. But it was also dangerous, deliberately meant to stir up the wingnuts and kooks."
Michelle's dismay towards Trump wasn't only due to what he represented. More importantly, she accused him of threatening her family's safety.
"What if someone with an unstable mind loaded a gun and drove to Washington? What if that person went looking for our girls? Donald Trump, with his loud and reckless innuendos, was putting my family's safety at risk. And for this I'd never forgive him."
WHY TRUMP WILL NEVER FORGIVE BARACK
In response to Michelle's comments, Trump clapped back. He told reporters,
"She got paid a lot of money to write a book and they always expect a little controversy. Ill give you a little controversy back."
He added that he would never forgive Barack for depleting US military funds. In contrast, he says he's spending "a lot of money" to make America safe.
"I'll never forgive [Barack Obama] for what he did to our United States by not funding it properly. It was depleted. It was old and tired, and I came in and I had to fix it, and I'm in the process of spending tremendous amounts of money, so I'll never forgive him for what he did to our military."
ANOTHER CONTROVERSIAL TOPIC DISCLOSED IN HER BOOK
Michelle's book is turning out to be quite controversial with her revelations and the reactions that followed. One of the topics in her book that gained a lot of attention too was her struggles with fertility. She revealed having a miscarriage and resorting to IVF. The former First Lady said was she worried about her body clock when she was in her 30's that she and her husband decided to take the IVF route. Their efforts paid off with the birth of their daughters Sasha and Malia.
Please fill in your e-mail so we can share with you our top stories!