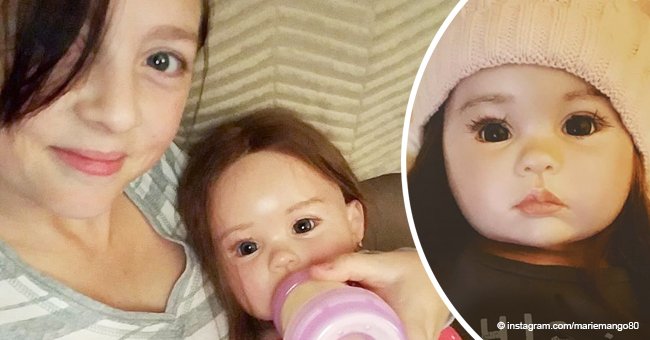 A woman takes care of a doll as a real baby after she found out that she cannot have children
While some people opt for adoption or using an egg donator to have children, Marie Mango from Kansas has taken the role of the mother of a doll. She takes little Bella around and treats her as if it were her real daughter.
Marie, a 38-year-old, has endured years of pain and depression after being told in her early twenties that she couldn't have kids. The woman had always dreamed of being a mom, so her world came crashing down on her after receiving the devastating news.
At 24, she was diagnosed with Turner syndrome, a condition in which a female is partly or completely missing an X chromosome, which causes infertility. A few years later, Marie was also diagnosed with rheumatoid arthritis, which slowed her down and turned the possibility of adopting into a distant dream.
Mango was depressed and looking for something to "fill the void" she felt, and that's how she came across the "reborn" dolls through YouTube in 2010. She got her reborn baby doll, Bella, in August of this year.
OVERCOMING DEPRESSION WITH THE HELP OF BELLA
The 18-months-old doll has helped Marie overcome her depression bit by bit. She roleplays with the doll and takes her everywhere, sometimes earning weirded out stares from strangers. But she remains unbothered because Bella makes her feel happy, at least a bit.
"I'm still depressed but trying to capture any happiness with my reborn doll. I should put a disclaimer that no reborn regardless of how realistic will ever fill that void of a real child, but it does help."
She also revealed how hard it was to found she was infertile:
"It came as a shock to me since pretty much everyone in my family can have children and had no backup plan. I grew up wanting to be a mother, most other kids wanted to be ballerinas or vets, but I had a strong desire to be a mother one day."
PEOPLE MISTAKE BELLA FOR A REAL BABY
The woman also admitted that sometimes is fun to see people being completely fooled by how real Bella looks and admitted that is only when they stare that the truth is revealed.
"I took her to a festival, and at a glance, she looks real, it's when you're really focusing on her that she gets busted, no toddler is this calm and never blinks," she said. And added:
"I love being a reborn mum at events; it's nice getting the feeling of others interacting with her, and it allows me to just get a glimpse of what it's like to be a real mum."
Marie shares her adventures with Bella on Instagram, and even though she doesn't have that many followers, she admits sometimes she comes across comments from haters shamming her for her actions.
"Haters don't grab my attention at all, I block and delete their comments. I think it's really horrible to judge someone for having a doll; they're not hurting anyone or forcing it upon anyone else. Why judge someone for having a doll? It's not that weird," she stated.
MARIE HAS HER FAMILY'S SUPPORT
She also sent a message to people that can't understand her position and call her weird for treating a doll as her real daughter:
"Think before you judge, people are so quick to judge and assume. Let them feel like they are accepted by society instead of making them feel nervous about bringing their dolls out in public because of how outsiders make them feel."
Marie says her family is supportive of her decision, as they believe as long as she's happy there's no harm in her actions. She also has a long-time partner, Andy, that doesn't fin her hobby weird at all.
Bella will be becoming a big sister in December, when Marie welcomes her second reborn, Liam, into the family.
Please fill in your e-mail so we can share with you our top stories!