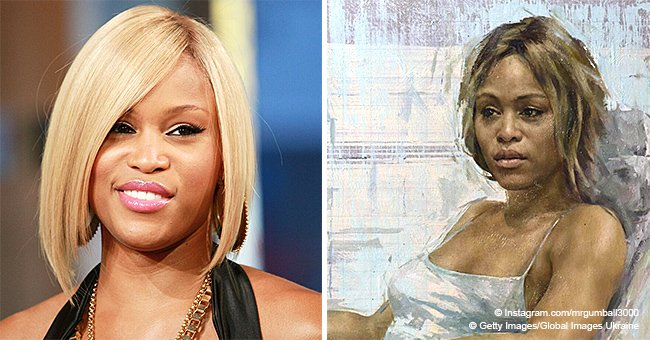 Eve's husband reveals stunning painting of the rapper in celebration of her birthday
Eve's husband celebrates her birthday with a lovely portrait of her amid her recent pronouncements regarding their lack of children.
Eve just turned a year older and to mark the milestone, her husband, Maximillion Cooper shared an image of a lovely painting of her.
KEEPING THE FIRE BURNING
It's been four years since Eve married the Gumball 300 rally founder and her husband remains devoted to making her smile. On their fourth wedding anniversary in June, he whisked her away to a romantic vacation in Sta. Lucia.
He also delights in sharing photos of his wife on his Instagram any chance he gets. Just recently, he featured her drenched in fake blood while greeting his followers a "Happy Halloween."
Likewise, he shared a photo of her dressed as Janet Jackson along with another woman pretending to be Dolly Parton.
A SPECIAL TRIBUTE
His latest tribute to his wife though is pretty special because it marked the day she turned 40. Instead of his wife's photo, he posted a painting of her created by Jonathan Yeo.
The beautiful masterpiece featured Eve sitting on a chair and gazing away. She's dressed in a spaghetti strapped top and her hair is naturally set. The painting has a rustic feel, capturing Eve's natural beauty. Maximillion uses the opportunity to greet his wife and celebrate her in her caption.
"Happy Birthday to my beautiful and incredible wife! Now let's paaaarty...."
BALLISTIC OVER A BABY
Amid the perfect relationship the couple seems to share, Eve has been hounded by talk surrounding her lack of children in her age. She spoke about how "sick" she is of hearing people asking her about it when she appeared as a guest co-host on "The Talk" last year.
"I am so sick about people making a big deal about women's ages. They don't do this to men. My 39th birthday is next week, it's in eight days, and the one question that I get is men and women ask me, 'How old are you again? Oh, you don't have any kids? How old are you again?' And I'm like, 'You heard me say how old I am.'"
Eve added that it's worse when the issue is raised to her by men.
"It annoys me because one time, one of my friends, a male friend said to me, 'When are you going to give my friend some kids?
"As a man you don't — anyone! No one should do it. We are trying, for anybody who is asking, but it's up to God and the universe. Just stop asking questions."
Eve has been very open about wanting to have her own children despite already being a stepmother to Maximillion's four children. But it's essentially not up to her. Last summer, she admitted having fun trying to conceive, but knows that her fate as a mother ultimately relies on "whoever is in charge."
Here's hoping"whoever is in charge" grants Eve's birthday wish this year.
Please fill in your e-mail so we can share with you our top stories!