Man fell asleep near Melania causing a furious reaction from Donald Trump
This past weekend, the world leaders gathered in Paris to mark 100 years since Armistice Day. French President Emmanuel Macron gave a moving speech for the occasion.
US President Donald Trump was in attendance with his wife First Lady Melania Trump. Footage video showed Donald starring daggers at a fellow leader during Macron's speech.
President Emmanuel Macron delivered the address for Armistice Day a few days ago. As he stood on the podium, he probably hoped everyone was listening intently.
However, not everyone was captivated by his moving speech. Video footage caught King Mohammed VI of Morocco bowing his head and nodding off.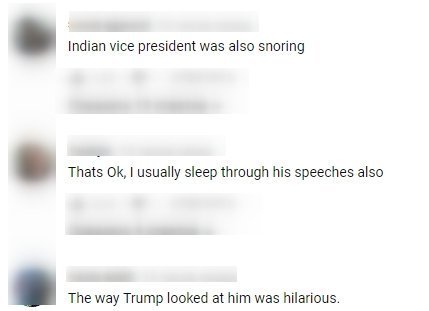 For more on this story go to our Twitter account @amomama_usa. The cameras weren't the only who noticed the incident, however.
Seated on the left-hand side of the King was First Lady Melania Trump and then President Donald Trump. On Donald's left side was Germany's chancellor Angela Merkel.
As Macron honored the soldiers who died during WWI, the US president could be seen looking at King Mohammed VI. The look on Donald's face revealed how much he disapproved of the sleeping King.
Melania, who was seated right next to Mohammed, appeared to be clueless as to what was transpiring. At one point, the US president looked straight at the camera as if to say, "Can you see him sleeping right now?"

The president didn't appear to have his translation earpiece in during Macron's speech which was delivered in French. So it's quite likely that he didn't hear the French president chiding other leaders over nationalism.
Macron said:
"Patriotism is the opposite of nationalism. Nationalism is treason, if we think our interest may only come first and we don't care for others, it is treason of our values. A betrayal of all moral values, we must remember this."

He added:
"It is those values and virtues that motivated those who sacrificed all to defend democracy... It is those values and those virtues that gave them strength because it guided their heart. The lessons of the Great War cannot be of vengeance nor forgetting the past. We must think of the future and preserve that which is essential."
It seemed like his comments were directed at the US president who recently proudly declared himself a nationalist.

Donald has faced a lot of criticism over the years. At the beginning of this year, he was photographed boarding Air Force One at West Palm Beach in Florida. The image showed him holding a large black umbrella as he walked up the steps to the plane.
Melania and their son, Barron, 11, were seen walking behind him without umbrellas of their own or any waterproof clothing. They were forced to battle the elements of the day until they made it safely into the plane.