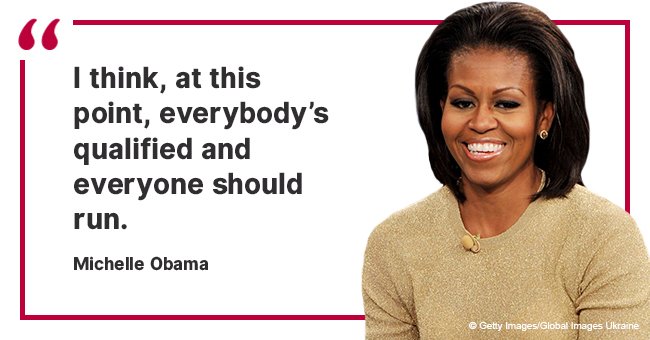 Michelle Obama says 'everybody is qualified' to run for president in 2020
Michelle Obama spoke about her hopes for the 2020 Presidential Elections.
Former first lady Michelle Obama gave Robin Roberts, the host of "Good Morning America" an exclusive interview in which spoke about her new book, the midterm elections and her hopes for the 2020 Presidential Election November 2018.
Michelle spoke to Roberts in her native Chicago, and once again confirmed that she has no intention of running for office.
MICHELLE OBAMA AND THE MIDTERM ELECTIONS
Michelle described the results of the midterm elections that gave Democrats at least 32 seats in the House and taking seven governorships that were previously Republican as hopeful.
The former first lady felt that the increase in voters at the polls is heartening and bodes well for the health of American democracy.
Statistics indicate that 114 million ballots were cast in 2018, a substantial rise from the 83 million votes cast in the 2014 midterms.
THE 2020 PRESIDENTIAL ELECTION
When questioned about the 2020 Presidential Elections, Michelle admitted that she considers Hillary Clinton eminently qualified, and was shocked that American women had chosen to vote for Donald Trump.
She appealed to anyone who feels passionately about America to run for office:
"I hope we have a lot of great candidates who get in there and treat each other respectfully. That's the thing I'm going to be looking for personally."
ANOTHER OBAMA FOR PRESIDENT?
Michelle, who has refuted any interest in running for office notwithstanding a substantial grassroots movement, did jokingly suggest another Obama that could run for president: Her daughter Sasha, who will be 18 by the time the elections come around in 2020.
HER ANGER AT TRUMP IS EXPRESSED IN HER MEMOIR
In her new memoir "Becoming," Michelle opens up about her anger at President Donald Trump over the "birther" conspiracy which questioned Barack Obama's citizenship.
Michelle believes that the innuendo placed her family at risk from potential attacks by radicals.
MICHELLE WAS SADDENED AS SHE WATCHED THE 2016 PRESIDENTIAL INAUGURATION
Michelle Obama confessed that she "couldn't smile" as she watched the 2016 Presidential Inauguration which saw Donald Trump sworn in as the 45th President of the United States.
She was shocked by Trump's election and felt the inauguration lacked the joy and excitement of the last two ceremonies.
In her book "Becoming" she labels Donald Trump as a misogynist and wonders how American women could have elected him their president.
When asked for a reaction to Michelle Obama's statements in her memoir, Trump responded by saying:
"Oh, I guess she wrote a book. She got paid a lot of money to write a book and they always insist you come up with controversial."
Michelle Obama is embarking on a nation-wide tour to promote her memoirs, which promise plenty of controversies – the prerequisite for a best-seller.
Please fill in your e-mail so we can share with you our top stories!