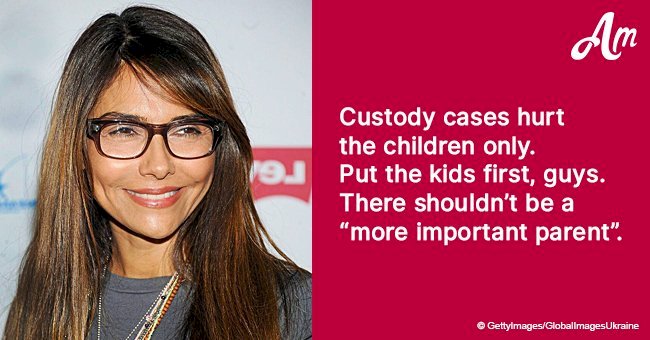 Vanessa Marcil's pain-filled post claims ex-boyfriend completely 'cut' son out of his life
Twelve years ago Vanessa Marcil received custody papers from ex Brian Austin Green and spent the majority of 8 years fighting for her son, Kassius, and she recently spoke out for the first time.
Vanessa Marcil has always been quiet about the bitter custody battle until now. On November 11 Vanessa spoke out for the first time while also claiming that Brian and his wife, Megan Fox, cut Kassius out of their lives.
Kassius, Vanessa and Brian's son, was born in March 2002, the pair split up in a few years later and Brian went on to marry Megan Fox in 2012 with whom he has three sons, Journey, 2, Bodhi, 4, and Noah, 6.
On Instagram Vanessa wrote:
"I never spoke publicly in order to protect my then young son from paparazzi that used to follow him & terrify him. I had also never asked for child support of any kind and had never tried to take time away from Kass' dad seeing him. Ever. In the end, they lost all of these court cases. The judge called them all 'Frivolous.'"
Then five years ago, according to Vanessa, Brian and Megan cut Kassius out of their lives and that of his younger brothers' lives and Vanessa elaborates:
"Kass has never met his youngest brother and is not allowed to know where his bio father, stepmother and three younger brothers live."
"Kass has been truly heartbroken since being cut out of his other families' lives with NO explanation. Let's do better for our kids. Let's share our stories. #Buddhakids."
Back in August Brian shared a photo of Kassius during a school production of Aladdin, but Vanessa re-posted the photo on November 12 stating that she took the picture that her ex, Brian shared of Kassius.
Megan Fox recently spent some time with her boys, nephew and Kassius over Halloween as they all got dressed up and ready for fun. She is known for rarely posting images of her three boys to Instagram, however, once in their Halloween costumes, she couldn't resist.
Fox uploaded a photo slideshow on November 1 where she wore a Gryffindor robe, with 6-year-old Noah dressed as a zombie cheerleader, 2-year-old Journey was a unicorn and 4-year-old Bodhi was a reptile.
They were later joined by Fox's nephew and Austin's 16-year-old son Kassius, dressed up in wigs and period clothes. After pictures got taken they were all ready for a magical evening of trick-or-treating.
On a different note, Vanessa recently attended a party held by 'General Hospital' co-star Michelle Stafford in celebration of her skincare company called Skin Nation.
After Michelle's sister got diagnosed with breast cancer, she began researching harmful chemicals in food, and ultimately led her to skin care products and the creation of her own line of plant-based skin care products.
Stafford planned to have the party in October to coincide with Breast Cancer Awareness Month and had a special replica cake made of a retail box containing Skin Nation products, all edible of course.
The invitations included family and friends, including a few 'General Hospital' co-stars to her first ever Skin Nation party with whom she wanted to share the successes of her company.
Please fill in your e-mail so we can share with you our top stories!