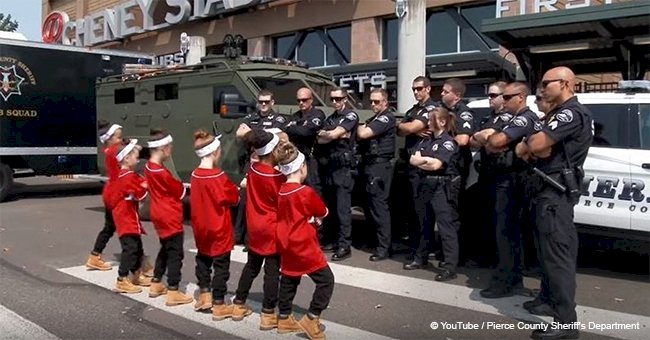 Epic dance battle between police officers and young dancers went viral
Among the overflowing stream of lip-sync videos coming from police departments all over the country, there was one that stole hearts with an original idea. The Pierce County Sheriff Department joined forces with the little girls from the Image Dance Studio to perform a dance battle like no other.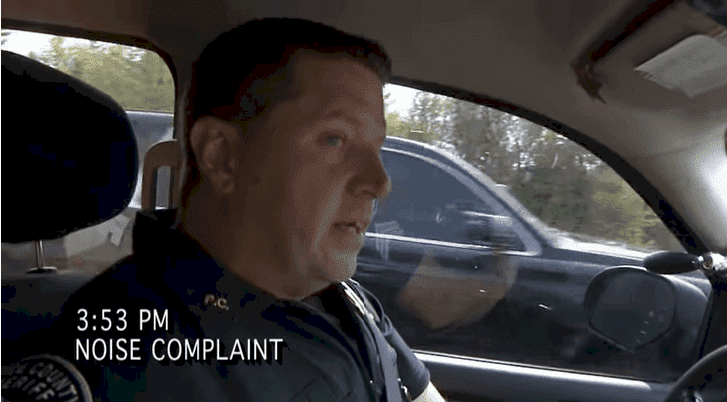 Source: YouTube/Pierce County Sheriff's Department
The video, posted on the department's YouTube channel in September, said on the description:
"All summer we waited and waited. Someone will challenge us to do a lip sync video - right?! Seattle Police? Puyallup Police? Anybody???? Like the last kid on the playground picked for the baseball team, no other police department dared to call us up to the plate for a lip sync battle…"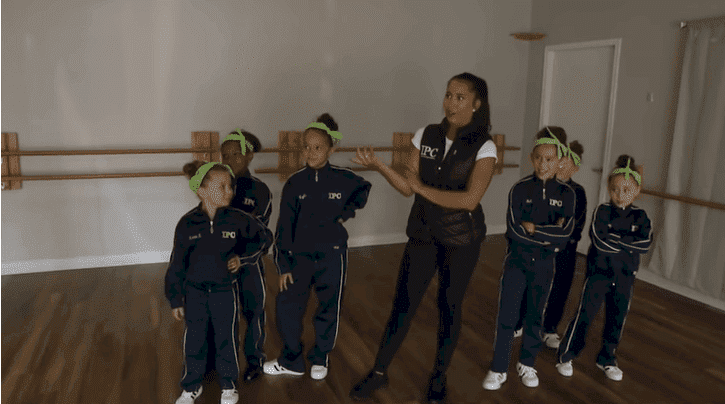 Source: YouTube/Pierce County Sheriff's Department
"So we kept on doing what we do best - catching bad guys, busting drug dealers, solving big crimes, filming COPS TV. And then a challenge like no other came from where we least expected it..."
The unexpected call was from the dancers at the Image Dance Studio, who faced against the officers in a perfectly staged dance-off that has earned over 600k views to this day.
In the viral footage, Detective Sergeant Gary Sanders can be seen talking about his experience in the department as he drives to attend a noise complaint made against the Image Dance Studio.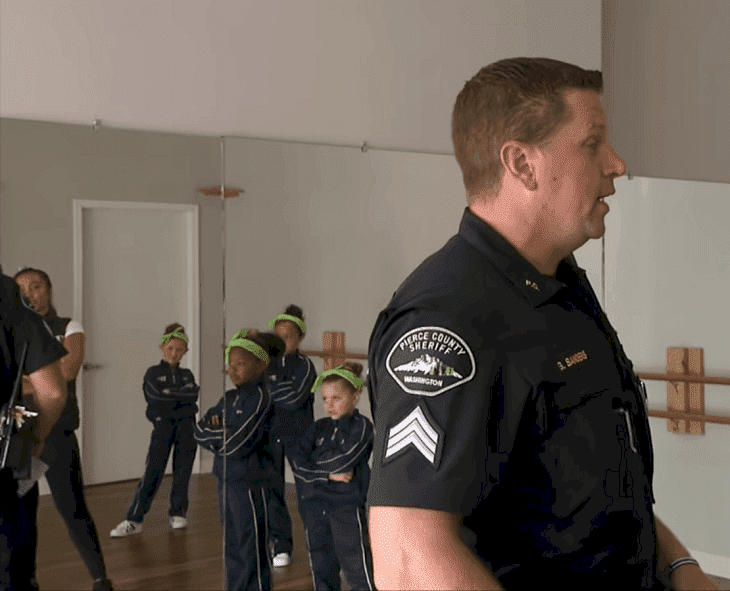 Source: YouTube/Pierce County Sheriff's Department
"These girls are always dancing, have the music up too loud and don't respect their neighbors. We'll see what they have to say this time," Sanders says as he pulls up to the studio.
As soon as he walks in, he orders a girl to turn off the music, but the dancers and their teacher don't seem pleased about the cop's presence. The girls, ranging in ages from young adult to elementary school-aged students, say they're having a dance party.
But Sanders says: "The noise is way too loud, and I'm going to have to write you a ticket."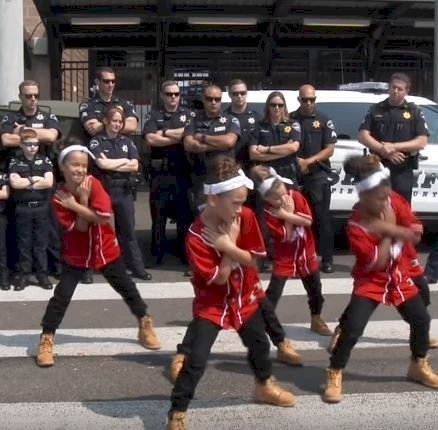 Source: YouTube/Pierce County Sheriff's Department
THE DANCE-OFF
It appears that the dancers have another idea. They challenge him to a dance-off. Sanders accepts immediately, fake-talking into his radio and asking for backup.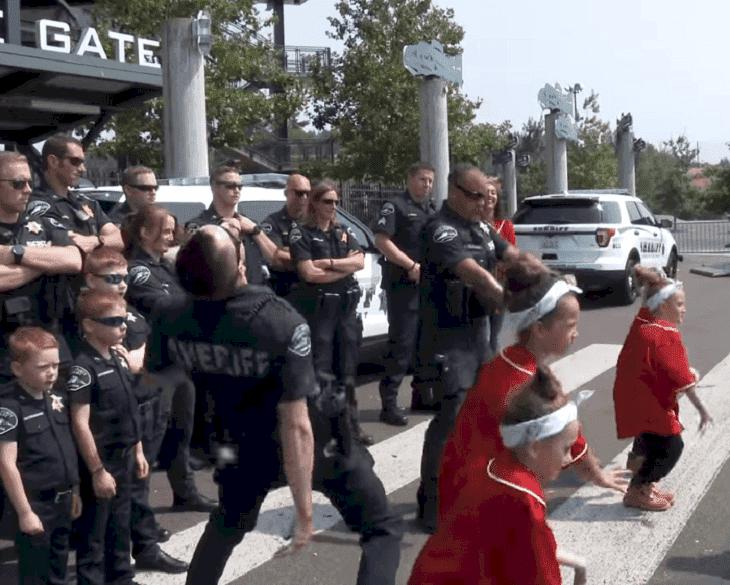 Source: YouTube/Pierce County Sheriff's Department
Soon, cars from the all the departments arrive at the scene, including the sheriff and the bomb squad, and the dance-off begins. Dressed in their uniforms, the deputies could not keep up with the dancing young ladies, but in the end, they all gather for a perfectly timed choreography.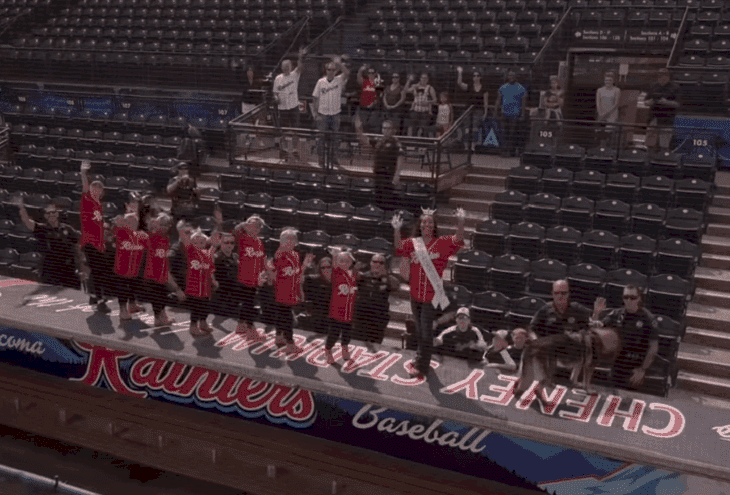 Source: YouTube/Pierce County Sheriff's Department
They all end up having a blast inside the Cheney Stadium in Tacoma, where the minor league team plays its home games.
The video ends with a note of gratitude to the three young sons of the late Daniel McCartney, who passed away in the line of duty in January 2018.
ANOTHER DANCE OFF BETWEEN A POLICE OFFICER AND A LITTLE GIRL
On a similar note, the Rockford Police Department was working with United Way to help provide additional resources to families in the area last June when one of their officers was challenged to a dance-off by an adorable little girl.
Neighbors and police officers at the "Strong Neighborhoods" event in Rockford witnessed how the little girls owned the deputy, identified as Eric Thurmond, while they danced to Drake's hit song "God's Plan."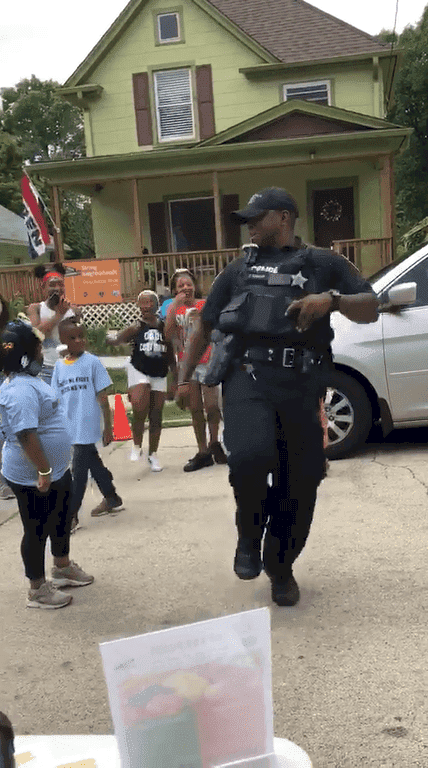 Source: Facebook/unitedwayrrv
However, there weren't any hard feelings between the police and the child, as they ended up their dance-off with a big hug and the cheers from the community.
The video, posted by United Way, has earned over 20k views. People from all around the country shared their thoughts on the officer's actions in the comments. One user wrote:
"Love this! Wish the police would/could come out more and play with these kids...show them they are the good guys and that they Are here to Serve and Protect the Innocent. Getting to know your neighborhood!"
"That little girl is adorable! As far as officer friendly, what an awesome cop! We need to see more of this kind of stuff surface FB!"
And a third one chimed in:
"So awesome to see these fine officers interacting with our kids in the neighborhood."
GETTING INVOLVED WITH THE COMMUNITY
Another police department that earned praises for building a bridge between their officers and the community they help protect was the Rockford Police Department.
Attending the call from other police departments that challenged them to a lip-sync video, they decided to twist it by asking members of the community to learn the dance and appear on the video too.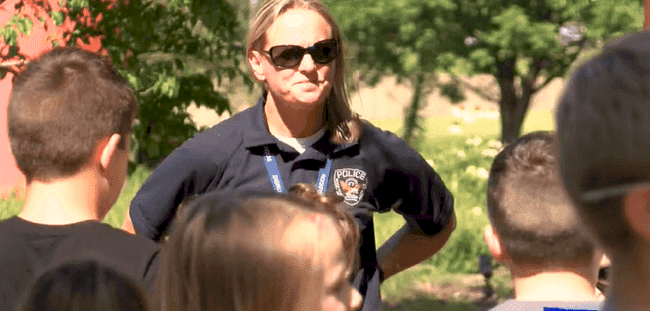 Source: YouTube/ Eyewitness News WTVO/WQRF
"We didn't want just to do a Lip Sync Challenge because that's what a lot of agencies are doing just officers lip-synching," said Rockford Police Chief Dan O'Shea. "I just threw it out there, 'hey we don't want it to be just Rockford PD we want it to be everyone involved.'"
Dozens of kids learned some dance moves guided by police sergeants. Some of them even wore police and S.W.A.T team costumes to feel closer to the officers.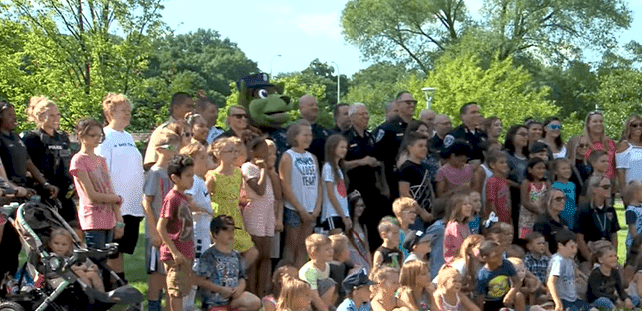 Source: YouTube/ Eyewitness News WTVO/WQRF
Janie Marrell, a Rockford Resident, told ABC17:
"I think it's great for the community. It's great to get the kids involved in law enforcement, so that way there's more of a community policing."
The lip-sync challenge certainly created the perfect excuse to get police officers to show their more fun side and interact with the members of their respective communities.
Please fill in your e-mail so we can share with you our top stories!