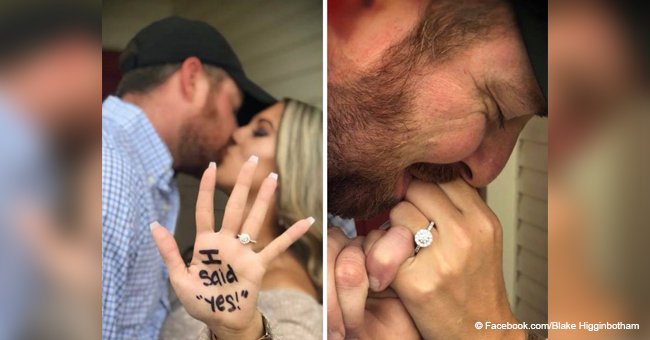 Man's response to ex-wife announcing engagement has the internet in love
After being divorced for three years, this man's ex-wife found love again and announced her engagement on social media. The man's response melted hearts all over the internet.
Love relationships can be very complicated and full of ups and downs. Many people come to marriage expecting it to last for a lifetime, but then have to face the harsh truth of separation and start a new life away from their former partner.
This is especially complicated when there are children involved, but a recent post that went viral on social media has managed to prove that it is possible to have a good relationship with your ex.
Blake Higginbotham married Heather when they were both very young. They had three children together, but over the years, their relationship declined, and both decided that the best thing for everyone would be a divorce.
Since then, Blake and Heather went through the difficult transition of divorce and living apart while trying to find a way to function as divorced parents.
The road was hard for both of them, but as time passed, Heather found love again with another man. She is so happy with her new partner that she said yes when the man proposed, and she just had to share the good news with everyone on social media.
The first thing that many would think was that this would be a hard blow for Blake, but the loving father and ex-husband was able to support Heather in a truly admirable way.
Blake shared the photos Heather's engagement pics and accompanied the publication with tender words of support that left everyone truly moved.
"This is my ex wife. The mother of my 3 children. The woman who brought all 3 of my children into this world. We got married young, had 3 beautiful children and had a bitter divorce," he started.
He then went on to explain that after three years, their relationship has changed a lot and now the act as a team for the sake of their beautiful kids. And continued:
"The man she's with is a great guy. He's great to my kids, and they love him to death. As a father, I couldn't ask for anything more. I sincerely wish you both the best. I'm thankful for many things including yalls relationship."
He also took the chance to share a piece of advice for people that might be going through a similar situation:
"To anyone divorced, I encourage you with all of me to try and look at this from a different angle. Just because you didn't work out as husband and wife doesn't mean you can't be mom and dad."
Despite how hard divorces are, Blake and Heather have shown how valuable it can be to maintain such a positive relationship. Their kids are lucky to have a family where harmony and love reign over all things.
Please fill in your e-mail so we can share with you our top stories!