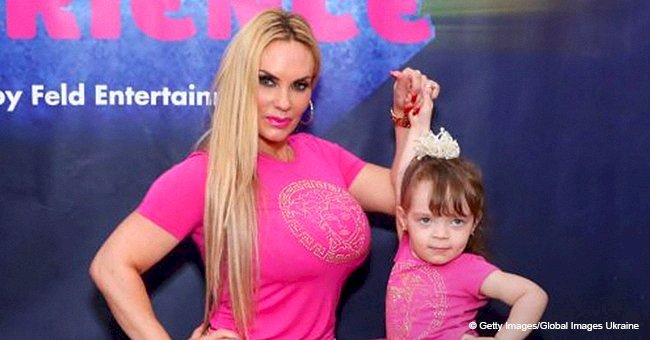 Ice-T's daughter flaunts her modeling skills, posing with mom Coco Austin in matching pink outfits
She's the child of a model, and on Thursday, Chanel Nicole proved every inch her mother's daughter as she posed up a storm at an event. It's also not the first time the toddler has shown how much of a stunner she is.
Coco Austin stepped out for the DreamWorks Trolls The Experience with her and Ice-T's two-year-old daughter, Chanel, and as usual, the pair was dressed in matching outfits.
The glamour model paired her pink top and skinny jeans with a gold belt and gold shoes and swept her long tresses to the side. Chanel, on the other hand, rocked a pair of gold sneakers and a white bow in her hair.
Although both mother and daughter looked spectacular, even taking time to twin with life-size trolls, it was Chanel's fierce pose that got the most attention.
The cute toddler arced an arm against her waist and jutted out her hip. Chanel also made sure to pull that familiar "model" face that says "I mean business."
When it comes to striking poses and wearing stylish clothes, Chanel has a lot of practice. Almost immediately she made her grand entrance into the world, Chanel has been twinning with her celebrity mother who is known for risqué outfits that put her famous curves on display.
ICE-T JOINS THE FUN
Once in a while, Coco has also been able to get her rapper husband in on the trend, like this past August. The former "Ice Loves Coco" star took to Instagram to share a photo of her brood matching in red.
While she and Chanel wore the same white dress scattered with red hearts, Ice-T went for a sportier look in a red-and-blue T-shirt, white pants, and a red baseball hat.
THE MARRIAGE SECRET
Despite having children from previous relationships, the "Law & Order: SVU" actor never misses an opportunity to gush over his wife of 16 years. They met on a movie set where Coco was working, and Ice recalls getting blown away by her beauty that first time.
Last year, Ice told Howard Stern that "jungle sex" is one of the things that keep things fresh in their marriage. Asked what he meant, the 60-year-old explained:
"Just taking it a little bit further, just having a little fun with the buildup."
BIRTHDAY GIRL
Last year, the close-knit couple threw a lavish princess-themed bash for their baby girl's 2nd birthday bash. Chanel did look like a princess for the day, complete with a pink tutu, bejeweled crown and a gold throne.
Getty Images
Chael Nicole will turn three on November 28.
Please fill in your e-mail so we can share with you our top stories!