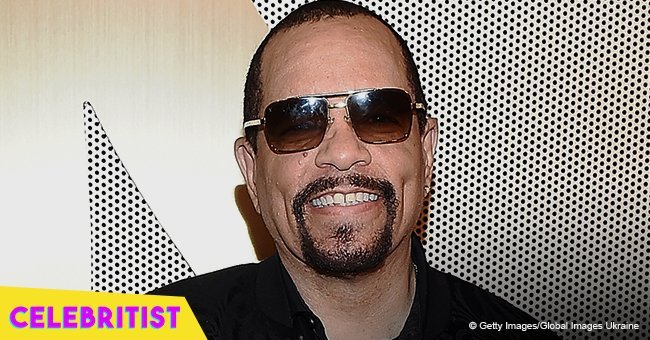 Ice-T's wife shares new photos of husband and daughter, 2, showing their uncanny resemblance

Ice-T's wife Coco Austin is having the time of her life with their two-year-old daughter, Chanel. The model cannot seem to stop wearing matching clothes with her little one and these photos of them wearing valentine-themed dresses confirm it.
In one of the photos, 60-year-old rapper, Ice-T holds Chanel affectionately on his lap. Ice looks more like a big, cuddly, bear than the gangster rapper persona he has cultivated over the years; the power of a two-year-old!
Chanel is wearing a sleeveless white gown dotted with tiny red hearts, and she clutches her daddy's large necklace in one hand as she smiles at the camera. With Ice-T also grinning, it isn't difficult to see the resemblance between the two.
The other photo features the entire family posing for a shot as they stand beside a red car. Coco, as usual, sports a bigger size of her mini-me's outfit and pairs it with white sandals. She gushed over her brood in the caption:
"Can I take a moment to tell you how much I just love my little family! (@ExoticsRally Car Show at One North Mediterranean Soul)"
Ice-T and Coco have been married since 2002 and do not hide the fact that they're smitten with their daughter who was born in 2015. The "Law & Order" actor confessed:
"I mean, she has absolute control over me. …I can't lie. I mean, she's so cute and she's really smart."
A few months ago, Coco admitted she was still breastfeeding their adorable tot and cared little for anyone who had something negative to say. She shared an image of Chanel resting on her bosom and wrote:
"I follow some mother impowering pages here on Instagram, and I love the inspiring pics they post showing the tenderness and love between a mother and child with or without nursing moments. ...I love that I can be a part of that. @babychanelnicole has made me a more sensitive person now that I'm older [sic]"
She further revealed that the breastfeeding was more for comfort at this stage.
Please fill in your e-mail so we can share with you our top stories!