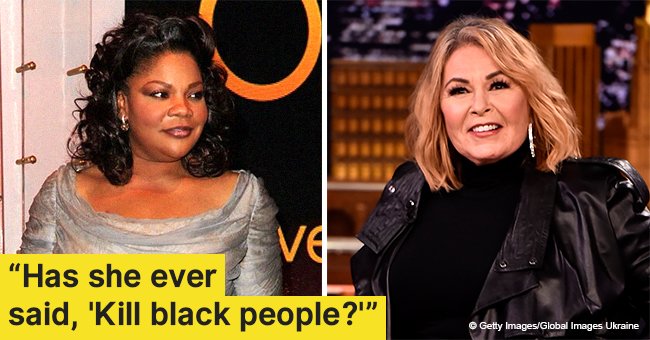 Mo'Nique heats up talk after defending Roseanne Barr in recent interview

Actress-comedian Mo'Nique defends Roseanne Barr claiming her "good sister" is not a racist and reveals why.
There's a reason why Mo'Nique is a staunch supporter of Roseanne Barr and she opens up about it in her latest interview.
Ahead of her show at the Improv in Chicago this weekend, Mo'Nique sat down with Chicago Tribune's Nina Metz and firmly shut down talks of racism against her "good sister." She said she knows the real Roseanne which is why she believes she's not a racist.
WHY ROSEANNE WAS BRANDED A RACIST
Back in May, Barr tweeted a joke about President Barack Obama's former Senior Advisor Valerie Jarrett which led people to brand her as a racist. She insinuated in her tweet that Jarrett was a product of the Muslim brotherhood and the planet of the apes. This sparked a wave of controversy that prompted her ABC bosses to fire her from her own show, "Roseanne." She was killed off from the series which now continues to air as "The Conners." The television star tried to make amends by apologizing, deleting her tweet and leaving Twitter for good but her fate had already been cast.
WHY MO'NIQUE IS STANDING BY ROSEANNE'S SIDE
One person though stood by her side and has defended her since – Mo'Nique. In a recent interview, Mo'Nique tells Metz she could never turn her back on Roseanne because she knows her.
"I'm gonna say this: We're comedians. And I know her. And what she thought was funny, as a comedian, that's what it was."
Mo'Nique also claims she's loyal to Roseanne because the comedian was there for her talk show when everyone else was hesitant to guest in it.
"When people turned on my sister Roseanne Barr, I couldn't do it. Because there were black entertainers who would not come on "The Mo'Nique Show" because it was quote-unquote "too black." But when I called on my sista, she said (imitating Barr): 'Where is it and what time you need me to come?'"
She added that during the show, when cameras weren't rolling, Roseanne pulled her aside and told her,
"'Listen, you're the real deal. Don't let them use you up and take advantage of you, because they will. Don't you let them do that to you.'"
"Now, a racist woman ain't gonna say that to me," Mo'Nique concludes.
IS ROSEANNE A RACIST OR NOT?
Things heated up when Metz challenged Mo'Nique's views. Metz said Roseanne's tweet wasn't humorous at all and "felt pretty dark."
To this, Mo'Nique replied,
"When we talked privately — and we've talked privately a lot — she'll break her jokes down and I'll know where they're coming from. She's like, "Listen, you know how I grew up, so how could I start making fun of anybody? I'm not trying to hurt anybody."
Monique adds,
"Has she ever said, 'Kill black people'?"
Metz argues that although Roseanne never uttered the line it doesn't discount her from being a racist. Mo'Nique concedes but provides further information to prove that her friend is far from being a racist.
"And I can't argue with what you're saying — I can't, baby! But here's what I know about this woman: She was behind the scenes fighting for the black (concert) promoters. Nobody knows that. She's behind the scenes trying to push a documentary about Malcolm X with a brother who's a Muslim."
Mo'Nique insists she knows this personally which makes her more forgiving of Roseanne.
"Did my sista say some things in poor taste? Some people could say yes. But what I won't label her is a racist. When she sends me a DM that says, "My love, we will rise again like the Phoenix" — a racist woman wouldn't do that, would she?"
THE LAST TIME MO'NIQUE CAME TO ROSEANNE'S DEFENSE
This isn't the first time Mo'Nique came to Roseanne's defense. In July, she referred to her as her "sister in comedy" and said she won't "throw her away for making a mistake."
"We've all said and done things, baby, that we wish we could talk back and swallow and say ['oops'] but when you're in the public eye, you can't, and it's out there but to put the title of racist on her [is not true]."
Fortunately for Roseanne, she found a staunch ally in Monique. Stones may be cast her way again and again, but she can always count on her "sister" to have her back.
Please fill in your e-mail so we can share with you our top stories!