Officer cradles baby while police helps mom record domestic violence report
People are praising an officer of the  West Jordan Police Department who held onto a baby as its mother reported domestic violence. 
Officer Lofgran, a records clerk, was pictured cradling a baby in the office of the WJPD earlier this week. Other police officers assisted the mother who was filing a domestic charge.
The Utah department shared the photo to their Facebook page yesterday. In response, people sent many words of appreciation to the officer. Some who knew him personally also chipped in. 
Follow us on Twitter for more @amomama.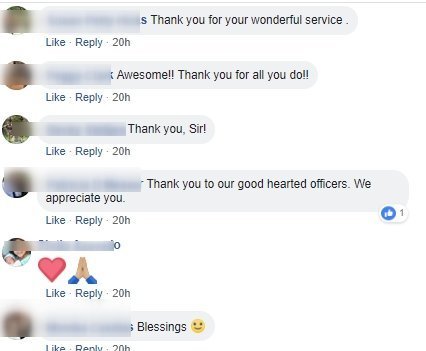 Along with the heartwarming photo of the officer, the department wrote: 
"Our records clerks caught Officer Lofgran during a call detail the other day. A young mother came in with her small children to file a domestic violence report."
The post continued:
"Officer a Lofgran helped watch over the children while this mother got the help she needed for that day. He spent hours on this call. Thank you for your service!"
One commenter who claimed to know the officer said: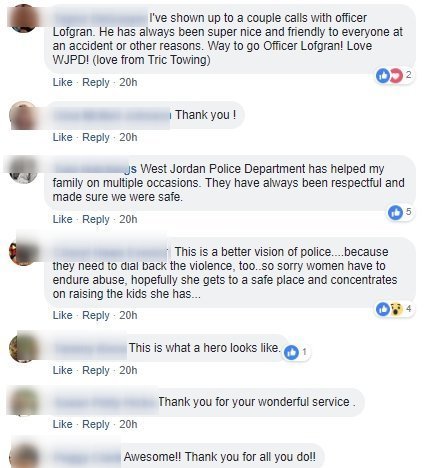 Just last month, another officer showed his softer side when he pulled over and played football with a little boy. 
The South Carolina man noticed that the boy was playing in his yard by himself. Surveillance cameras captured as he stopped his cruiser and got out to join the boy. 
They were seen throwing the football back and forth in the tape. The boy's dad shared the video. He said, "This made my sons day and I wanted this officer to know... he rocks." 
Earlier in September, another heart-melting story of a kind officer emerged out of Santa Rosa. 
Jesse Whitten made the big step to adopt a baby girl who was the daughter to a drug-addicted homeless woman. 
Whitten, 33, had seen the pregnant woman on the streets during his patrols. The two spoke and she asked Whitten to adopt her child when it was born. 
Police officer adopts baby from homeless woman he helped while on duty: 'I fell in love right away': https://t.co/5ksM4zEc2R pic.twitter.com/er8RhJ6WZ9

— ABC News (@ABC) September 5, 2018
Whitten and his wife quickly agreed. The officer later said he "fell in love right away" with the seven-month-old. In addition to baby Harlow, Whitten has three children with his wife.