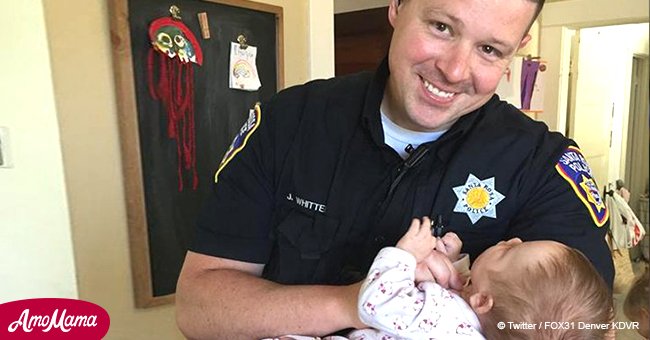 Police officer adopts baby of homeless woman with drug addiction that he helped while on duty
Officer Jesse Whitten, a father of three, recently adopted a baby girl who was born to a homeless woman struggling with addiction.
The Santa Rosa Police Department officer had come across the pregnant woman while he was on patrol. She was living on the streets and battling with drug addiction, Good Morning America reported.
The baby's mother asked the 33-year-old officer if he would adopt her. Whitten and his wife agreed to adopt the baby without any hesitation. The baby is named Harlow, and she is seven months old.
Read more on our Twitter account @amomama_usa.
"I fell in love right away. She's so adorable. She will cry if she needs something, obviously as babies do, but as soon as we would touch her, she'd immediately stop crying. She knew right away that she was safe," Whitten told Good Morning America.
Whitten had met the biological mother of his adopted daughter last spring, while she was pregnant. The policeman had established a rapport with the homeless woman and had even driven her to a shelter and a detox center.
One night when his wife Ashely Whitten was riding along with him, they happened to meet the woman and found out she was expecting.
Six months later the woman had given birth to a baby girl who had drugs in her system, and the county asked her if she wanted them to place her baby in foster care immediately.
Instead of going along with the suggestion, the woman asked the county to get in touch with Officer Whitten.
The woman had envisioned her daughter living a good life, but as she was unable to provide her that, she requested the officer to adopt her.
The Whittens officially adopted the baby on August 30, 2018, and named her Harlow Maisey Whitten. The mother of the baby had named her Maisey, and the Whittens kept it as her middle name in her honor.
Please fill in your e-mail so we can share with you our top stories!