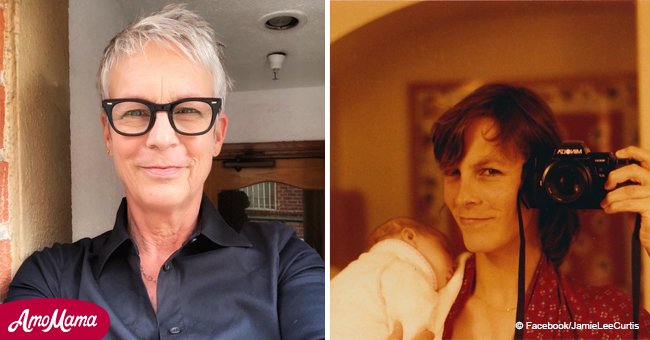 Here's why Jamie Lee Curtis doesn't dye her hair or wear heels
Jamie Lee Curtis prefers to keep her hair in its natural color and avoids wearing heels. She explained that she wanted to be true to herself.
In the past, at the peak of her career, Curtis was struggling to keep up with Hollywood's idea of beauty. It wasn't long until she succumbed to the pressure and went under the knife in her thirties.
At the time, the actress was doing everything to maintain her youthful appearance, which included resorting to cosmetic surgery.
It took her to become addicted to doctor-prescribed painkillers for her to realize the more important things in life.
Follow us on Twitter at AmoMama USA for more details and updates.
During a 2002 interview with Telegraph UK, she said, "I've done it all. I've had a little plastic surgery. I've had a little lipo. I've had a little Botox. And you know what? None of it works. None of it."
Curtis was engulfed in her fear of looking different and older. It led her to become addicted to not only pills but also to alcohol.
To make things worse, she let the words of the producers, directors, and even cameramen get to her. She kept on listening to them when they told her she should look a certain way.
Fortunately, Curtis was able to stop falling into the pit of addiction and negativity. She was able to realize that she needed to get her life together for her and her daughter.
The actress voluntarily enrolled herself in a rehab program, which helped her a lot. She also made changes to her appearance that made her feel like herself again.
Apart from staying away from drugs and alcohol, Curtis also vowed never to go under the knife again. She also decided to forgo other superficial things.
She swore to herself to not let other people's judgments get to her. She knew that she couldn't please everyone, but what mattered was the way she saw herself.
"I'm trying hard to take the veil off the fraud, to be real, to start with me. In the recovery program I'm in (for addiction problems), they talk about peeling an onion, exposing more layers."
After making the necessary change, Curtis also decided to stop dying her hair, and she also decided never to wear high heels again.
Even though she decided to be more carefree, she still likes to take care of herself.
A couple of years ago, when she gained weight, she was able to shed off the extra pounds in a healthy way. Nobody told her to do so, but she did it for herself.
Now, Curtis spends a portion of her time being a volunteer counselor for anti-drug campaigns. She uses her experience to help those who are having a rough time overcoming their addictions.
Aside from that and her acting career, Curtis is also an author of children's books. In 2002, she published her book entitled "I'm Gonna Like Me: Letting Off a Little Self-Esteem."
Please fill in your e-mail so we can share with you our top stories!