Mother dies within a few minutes of eating food with her husband while on holiday in Spain
A mum-of-two died unexpectedly while on holiday in Spain. Her untimely death came just minutes after she enjoyed a meal with her husband.
Jackie Lee, a former nurse, had been on a holiday trip with her husband in Benalmádena, near Malaga. On their second day there, she suddenly began feeling ill.
On Wednesday, October 24, after feeling sick, Jackie suffered a  heart attack after she sat down to catch her breath. Unfortunately, the heart attack resulted in her death. She was only 57 years old and has been described as "irrepressible, hilarious and fizzing with energy."
According to her husband the couple had arrived on Tuesday evening. They went for a few drinks. The next day they went to the supermarket as they were staying in a self-catering facility and needed to get some supplies.
Mum dies within minutes of eating meal with her husband on holiday in Spainhttps://t.co/eWBUvcs8QH pic.twitter.com/9Z5ViGgtxF

— The Mirror (@DailyMirror) November 16, 2018
Read more on our Twitter account @amomama_usa.
After their shopping trip, they went back to the hotel and joined their friends for a quick meal and another drink at the bar. Jackie complained she was feeling a bit sick and could not breathe. "I thought she was having a panic attack." said her husband.
A man from the restaurant came out and helped her sit down in a chair. She was still in pain when she turned to her husband and said, "I'm dying. Tell the kids I love them." He went on to say she passed away within minutes of her statement.

She was then taken away by ambulance to a hospital in nearby Malaga. Colin was not allowed to join her and was forced to return to the hotel room. Jackie had no holiday insurance which meant that her family were responsible for the payment of the repatriation of her body back to Wales. 
"Before we went to the supermarket earlier that day Jackie told me she'd forgotten three things: tea bags, a travel plug, and insurance," said Colin.  Jackie usually ensured she had insurance because she had a pacemaker. However the trip had been planned hastily and as a result, she had forgotten about it. 

Colin was forced to stay in Spain for three days after her death before finally managing to get a flight home. The day after he got back home,  the family set up a GoFundMe page to raise the money to bring her body home. The page raised over $12 000 within two days.
"It's really unbelievable how generous everyone has been," said Colin.
The family intends to set up a trust fund in Jackie's memory for people who find themselves in similar circumstances with all the money that is left over. Jackie's body was finally flown back to the UK on November 4.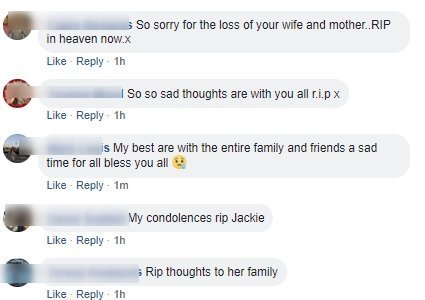 Her funeral will be held on Friday, November 23, at Thornhill Crematorium. There will also be a wake at Leigh Social Club in Senghenydd.
In a similar story, an elderly woman escaped through a second-story window as a fire ripped through her home on Thursday morning. Unfortunately, she then suffered a heart attack and died at the hospital.