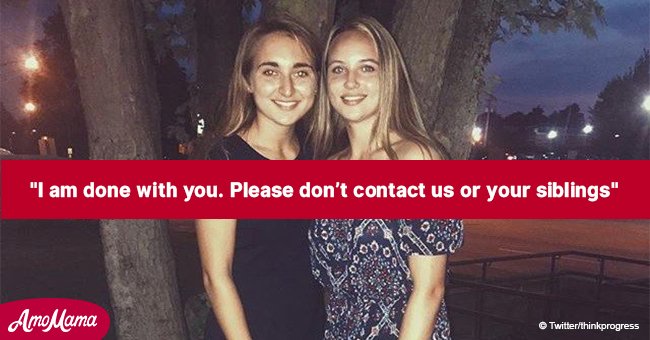 Promising young athlete kicked out of her home for being gay
A talented young student on an athletic scholarship was disowned by her parents for being gay.
Emily Scheck, 19 is a student at the prestigious Canisius College in Buffalo, New York, and an up-and-coming cross-country and track star, but her brilliant path may be side-tracked by intolerance and the rejection of those she holds most dear.
Scheck is a lesbian, and when her mother saw photos of her daughter with her girlfriend on social media, she demanded her daughter return home and attend counseling on penalty of losing all parental support.
In order to help Scheck, a Go-Fund-me page - Emily, Let Her Be Herself - has been created to help the young woman fulfill her potential despite her family's abandonment.
"Well, I am done with you. As of right now, declare yourself independent. You are on your own. Please don't contact us or your siblings."
"YOU DISGUST ME"
Scheck was shattered by her mother's rejection and asked her why she was reacting in such a radical way to her being gay, and her mother replied that she found her daughter "disgusting".
The family issued the young student with an ultimatum: come home to Rochester and get "treatment" or be cut off from all contact and financial support.
STANDING HER GROUND
Scheck holds a partial athletic scholarship, but although her year's tuition was paid up, the student suddenly found herself relying on her friends and girlfriend for her basic needs. She couldn't even afford to buy food. Scheck's girlfriend, Justyna Wilkinson, decided to start a Go-Fund-Me page to help her make ends meet.
HER SCHOLARSHIP AT RISK
When sympathetic donors started to donate, the College alerted the NCAA to the possibility that the Go-Fund-Me page might be infringing the NCAA rules that specify that an athletic scholarship recipient may not have any other source of income.

Source: Facebook/ NYDailyNews
NCAA DECISION RULED IN FAVOR OF SCHECK
The NCAA committee reviewed Scheck's case and ruled that the student may keep the funds donated to her for her living and educational expenses, as long as the contributions are monitored by Canisius College:
"Emily Scheck can retain her eligibility and continue to receive GoFundMe donations that assist her with living and educational expenses."
The College has pledged to help and support Scheck, and her parents have now come forward to say that they love their daughter and accept her sexuality. The family is said to be in counseling.

Source: Facebook/ NYDailyNews
A YOUNG MAN WAS KICKED OUT OF HIS HOME FOR BEING GAY
Like Emily Scheck, Daniel Ashley Pierce, from Kennesaw, Georgia, is homosexual. The young man opened up to his parents about his sexual orientation and was shocked by the response.
His mother told him that she had known that he was gay since he was 5 years old, but since he was choosing "that life" he was expelled from the family and had to leave the house.
Pirce's mother told him that she followed the word of God, and so she rejected him and his way of life - which she defined as a "choice." When Pierce explained that he had been aware of his orientation from early childhood, and it wasn't a choice, she would not recant.
Like Emily Scheck, the 20-year-old was thrown out with no resources and friends set up a Go-Fund-Me page to help him start a new life and contributions reached over $50,000 dollars from sympathetic donors, many of whom confessed having gone through similar experiences.
Please fill in your e-mail so we can share with you our top stories!