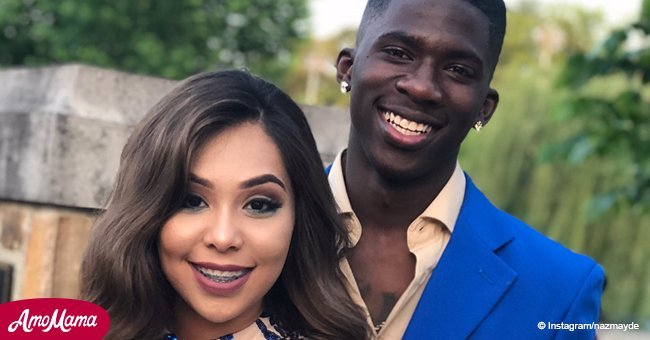 Teen transformed secondhand dress into eye-catching prom gown
A teenager turned an ordinary dress into a sensational Prom gown for his girlfriend.
Every high school girl's dream is to arrive at her Prom wearing a dazzling dream dress, on the arm of her Prince Charming.
Prom dresses are a lucrative business and a gown can cost from several hundred to many thousands of dollars and will be worn for just that one night.
Read more on our Twitter account, @amomama_usa. The spectacular dress can be seen below.
Alabama teen Nazmayde Castillo bought a $50 cocktail dress and her boyfriend transformed it into a showstopper.
They embroidered the intricated paisley print on the dress with sequins in shades of blue and turquoise and her aunt made dozens of matching blue satin flowers.
Her boyfriend, MJ Johson, saidon Instagram:
"Ok since ppl inboxing me asking where she got her dress from. I found it on @fashionnova for her and she had the idea to add flowers at the bottom. That's it, a $50 dress is all flowers was all it took. We both creative as hell"
On prom night, Castillo and her MJ Johnson rocked the dance in matching colors, and they shared photos of the dress on social media the following day.
The post quickly went viral and comments soon began to rush in. Women were amazed at MJ's creativity and resourcefulness.
MJ's creation was picked up and posted on the company's social media by Fashion Nova itself.
Fashion Nova is a fast fashion brand popular with celebrity fashionistas like Kim Kardashian, Kylie Jenner, Cardi B, Jordyn Woods, Khloe Kardashian, Kourtney Kardashian, Adrienne Bailon, and Amber Rose.
The brand offers amazing cutting-edge designs with very accessible prices. It is becoming more and more popular with women who love designer looks but can't afford the price tags.
The brand posted a photo of MJ's achievement on their Twitter account. On one side they placed the original dress, and next to it Castillo's souped-up creation, looking worthy of a red carpet.
Please fill in your e-mail so we can share with you our top stories!