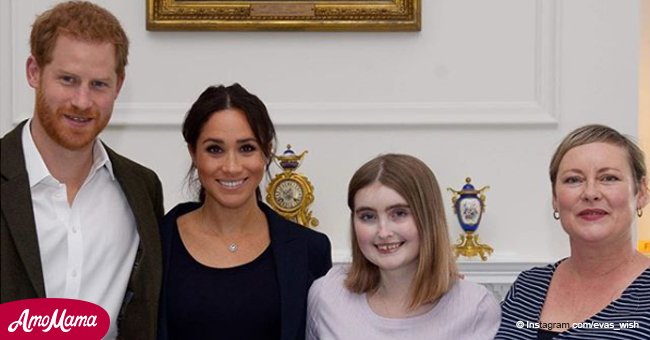 Teen girl who met Meghan Markle and Prince Harry in New Zealand lost her battle with cancer
The 18-year-old named Eva McGauley who the Duke and Duchess of Sussex met during their New Zealand tour recently passed away because of cancer.
McGauley was only 16 years old when she was diagnosed with nasopharyngeal carcinoma, which is an uncommon type of head and neck cancer.
While most teenagers would be devastated upon hearing the news, McGauley still fought to help the world by raising funds for a sexual abuse assistance program.
In addition, she also founded Eva's Wish, which is an organization that aims to ultimately stop sexual violence and to give ample support for the survivors.
Follow us on Twitter at AmoMama USA for more details and updates.
McGauley, who was taking up political science at Victoria University, passed away on November 18, 2018, at her Wellington home.
According to the Eva's Wish Instagram page, Eva was surrounded by her loved ones when she died. The family said it was "very fast and peaceful."
"Thank you so much to all of you who have followed Eva's journey and supported her dreams," it stated in the caption.
McGauley was diagnosed in February 2015 and had undergone intensive chemotherapy and radiotherapy. After some time, she was told she was in remission.
Unfortunately, she later found out that the cancer had spread to her hip, as well as a lymph node in her chest. The doctors told her the cancer was terminal.
McGauley had always been strong and never felt the urge to feel sorry for herself. She always wanted to do the things she loved and enjoyed.
She was very happy when she learned that she was going to meet Prince Harry and Meghan Markle on October 30 at Government House in Wellington, New Zealand.
McGauley was initially invited to attend the Prime Minister's Reception in Auckland. Unfortunately, because of her health, she wasn't allowed to fly.
The Duke and Duchess heard about McGauley and wanted to meet her. During their meeting at Government House, they talked about Eva's wish and all the good things McGauley had done to help put a stop in sexual abuse.
After their meeting, McGauley took to Instagram to express how honored and thankful she was for the once-in-a-lifetime opportunity.
In another story, eagle-eyed royal fans noticed that Markle had been wearing shoes that are a bit big for her.
A fashion expert explained that she might just be avoiding blisters since it's her job as a royal to interact with the public all day long, and walking around in uncomfortable shoes can be painful at the end of the day.
Meanwhile, reports revealed that Prince Harry and Markle might be splitting from Prince William and Kate Middleton. The newly married couple are potentially looking into the idea of moving away and having a more private home now that they are expecting their first child.
Please fill in your e-mail so we can share with you our top stories!