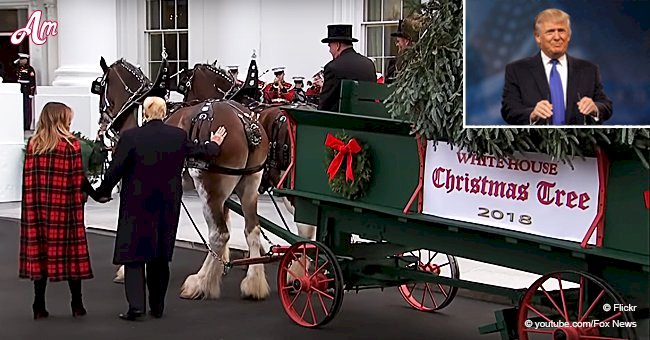 President Trump's gesture to a horse delivering a Christmas tree quickly spread on the Internet
President Donald Trump has once again given the Twittersphere a jolly laughable moment. This time, it involves a Christmas tree and a horse's rump at the White House.
The President and the First Lady opened the Christmas season yesterday. As the pair walked down the White House steps, media personnel and fans awaited.
Donald and Melania Trump were to receive the 19 and a half feet Fraser fir to be put in the White House. The horse-drawn carriage carrying the tree rode up and the president and his wife approached.
The pair, hand-in-hand, made a circle around the carriage before getting closer to the animals. Trump shook the hands of the riders and then did something Twitter won't live down.
He gave one of the horses a rub and a few pats on its rump. Right after, he patted the horse's middle section. But the damage was done.
Almost immediately, the jokes came rolling in. Side-eyes and clever remarks accompanied snippets of the amusing incident.
One user said "when you're a star, they let you do it. You can do anything," in an apparent reference to Trump's recorded words about touching women inappropriately in the past.
Others unabashedly compared the President himself to the part of the horse he had patted. Another user suggested that Melania was just happy it wasn't her.
The First Lady has taken a lot of verbal hits thanks to her position as Trump's wife. But she is often the one smiling and appears to be taking things in stride.
Source: YouTube/ Fox News
Last year, she did a full-blown seasonal decoration of the White House. Along with the traditional gingerbread White House treat, Melania was pictured hanging ornaments on the tree. Her son Barron was also part of the celebrations.
She shared a photo putting finishing touches to a bow on the wreath. The next day she joined her husband for the pardoning of turkeys Wishbone and Drumstick.
Trump's daughter Ivanka and her husband Jaren Kushner were present along with two of their three children. This year, President Trump and his family are set to pardon another turkey again on November 20.
Please fill in your e-mail so we can share with you our top stories!