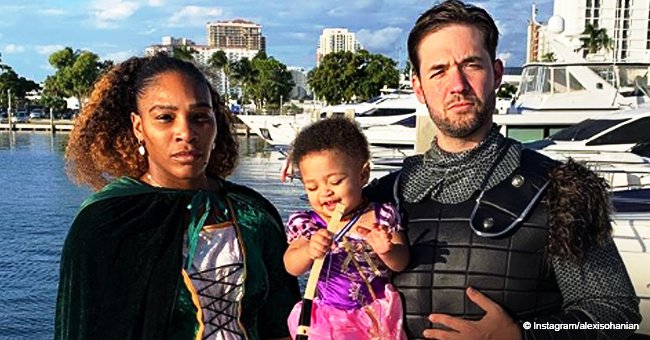 Alexis Ohanian shares photos with Serena Williams and daughter Olympia from their 'normal weekend'
Alexis Ohanian, the husband of Serena Williams, took to social media to share several photos of his family's "normal weekend." The couple's daughter, Olympia, was the highlight.
The first image he uploaded portrayed them wearing medieval-like costumes while posing in what seemed to be a dock.
Olympia was wearing a pink and purple princess-like dress, Serena chose a white and green outfit, and Alexis opted for a costume similar to the ones the male characters in "Game of Thrones" wear.
PLAYING ON THE BOAT
The next image the Reddit co-founder uploaded showed Serena in an animal printed dress and a big hat playing with Olympia on the deck of the boat they got on for their free days.
HER BEAUTIFUL SMILE
In the third image, the one-year-old toddler was flashing her beautiful smile at the camera while sitting between her mother's legs. Her curly hair and infectious energy were the highlights of the post.
HIS TWITTER POSTS
Not only Alexis uploaded photos to Instagram, but also Twitter. One of them showed Olympia wearing a sailor-like outfit while jumping on a couch, clearly having a good time.
Another one showed the girl close to the camera while Serena was barely visible a couple of steps behind her. The camera's blurry effect gave the photo a very creative touch.
THE VIEW
Apart from the images of his family, Alexis shared pics of the beautiful views they enjoyed during their weekend off. Most of them showed the beautiful ocean and the sunset from the boat.
HONORING THEIR FIRST MARRIAGE ANNIVERSARY
Recently, Serena and Alexis took to social media to exchange sweet tributes on their first-year anniversary. The man shared an adorable photo taken during their wedding dance while Serena posted a bedroom selfie.
Alexis' post was a black and white photo showing Serena's wearing her beautiful wedding dress and her striking tutu in front of the several guests who attended their big day.
For the caption, the man wrote, "365 days later. And still dancing. Only now Jr joins in." The one that Serena uploaded portrayed the couple laying on their bed while flashing their smiles at the camera.
In the caption, she wrote, "One year down a lifetime to go." Their first year is truly is a milestone worth celebrating with people finding inspiration in their unique love affair.
Please fill in your e-mail so we can share with you our top stories!