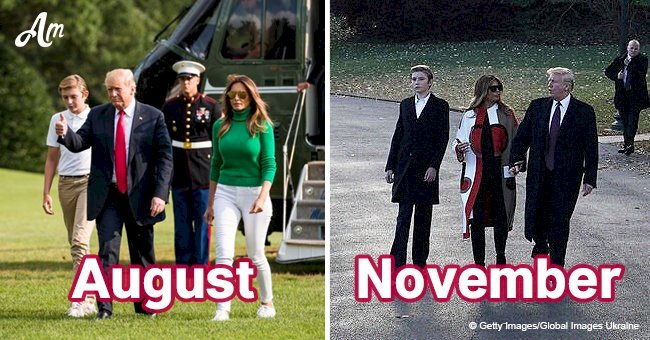 Trump's youngest son Barron seen in public for the first time since August
Donald Trump's son, Barron joined his parents in public as the family left the White House after months of staying out of the public eye.
On Tuesday, Barron Trump got spotted at the White House as the Trump family made their way to Marine One for a flight to Mar-a-Lago where they would spend Thanksgiving. Melania Trump and Barron boarded the plane while Donald Trump answered questions from the press.
Last seen in August, when Barron left Bedminster, New Jersey with his parents for a flight back to Washington D.C. at the end of his summer break.
The 12-year-old had been notably absent from ceremonies he attended last year. Earlier the day President Trump pardoned the Thanksgiving turkey with Barron nowhere to be seen. When the White House Christmas tree arrived on Monday, young Barron was absent as well.
What Baron appears to have been doing, is growing, as he now stands taller than mum Melania who is reportedly 180 cm. That makes him at least 40 cm taller than the average height of other children the same age.
If he keeps this up, he will soon be the tallest Trump being well on his way in overtaking his 188 cm tall father, Donald. Unlike his siblings, Barron avoids the public eye with Melania making an effort to keep her son out of the spotlight.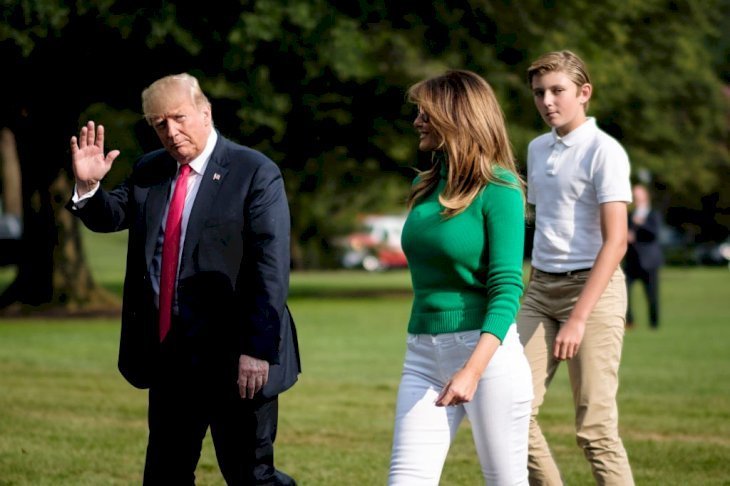 Source: GettyImages
Young Barron currently attends St. Andrew's Episcopal School in Potomac, Maryland, but is on Thanksgiving break. While still in Manhattan he attended the prestigious Columbia Grammar and Preparatory School.
But Barron is not just getting taller, his resemblance to Donald is becoming more striking and although it would be a plausible reason why mum Melania calls Barron 'Little Donald' it won't be the real reason.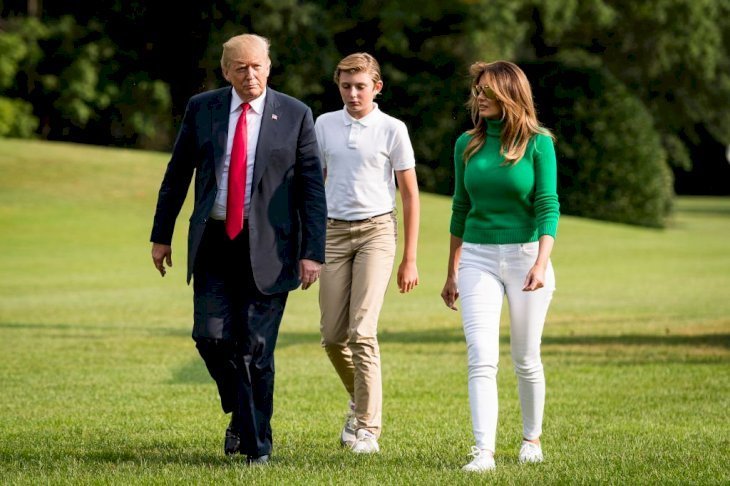 Source: GettyImages
From a young age, Barron could entertain himself with Legos and Magna-Tiles constructing all sorts of things for hours at a time. Like his dad, he has a love for building towers.
Father and son also enjoy their favorite sport together, especially when in Mar-a-Lago as they get to spend a lot of time playing golf.
But picking up habits from his father is not where the similarities come in. Since being a toddler, he got accustomed to bossing people around.
And as Melania sums up the characteristics of young Barron, it sounds very much like Donald himself. About Barron Melania said:
"He is a very strong-minded, very special, smart boy. He is independent and opinionated and knows exactly what he wants. Sometimes I call him 'Little Donald.'"
Please fill in your e-mail so we can share with you our top stories!