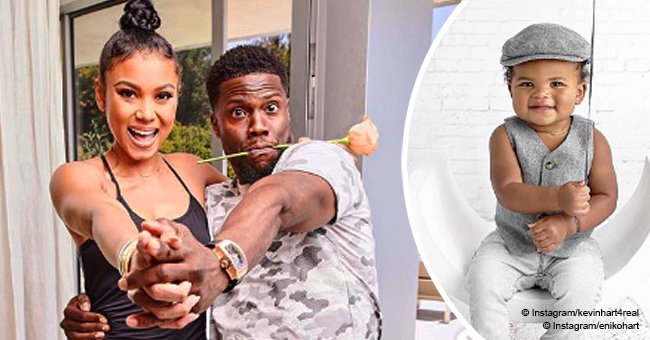 Kevin Hart & wife Eniko melt hearts with adorable photos of their son Kenzo on his 1st birthday
Kevin Hart and his wife, Eniko, took to Instagram to share photos of their son, Kenzo, to honor him on his first birthday.
In the image that the proud mother uploaded, the boy appeared sitting in front of a delicious-looking birthday cake while wearing a crown that had "one" written on it. The highlight of the post was Kenzo's face as it showed nothing but happiness (and some cake crumbs).
For the caption, Eniko wished his "dearest Kenzo" a happy first birthday. She added that words couldn't describe how special he is and how his infectious smile, laughter, and personality lights up the room.
HER MESSAGE
"Life before you was amazing but it definitely feels more purposeful. Spending this past year with you has truly been an adventure. You've given me strength that i didn't know i had literally! Lol. Everyday with you is SO worth it. I'm so blessed beyond measures to be your mommy [sic]," wrote Eniko in the caption.
KEVIN'S PHOTO
In Kevin's post, Kenzo looked even better as he was sitting in a white chair wearing light grey pants, a matching vest, and a beret while holding on a huge black balloon that gave the pic the perfect contrast.
PEOPLE'S REACTION
As soon as the couple uploaded that photo, their followers took to the comment section to share their thoughts. Most of them wished him a happy birthday, while others admitted that he looked very grown-up for being one year old.
THE "HARTNITE BIRTHDAY ROYALE"
Kevin posted that image soon after he and his ex-wife, Torrei, threw an amazing "Fortnite"-themed party to celebrate the birthday of their 11-year-old son Hendrix. As Inquisitr reported, the parents hired the event planner company bDASHd to organize everything.
The party took place at Kevin's studio near Los Angeles on November 17. They even gave it a name: "Hartnite Birthday Royale." It included Fortnite-related decorations, a ninja warrior zone and bases, custom T-shirts for the guests, and so on.
At some point during the celebration, Kevin joined the pre-teens in a game of dodgeball very confidently, as shown in a post he uploaded to Instagram. However, the children beat him after a while.
THE ACTOR'S LIFE
Kevin has three children so far. 13-year-old Heaven and 11-year-old Hendrix, born during his marriage to Torrei, and one-year-old Kenzo, born from his relationship to Eniko.
At the moment, the actor is one of the most important and influential people in the entertainment industry. He is expected to appear in "Jumanji 3," "Ride Along 3," and to voice over a character in "The Secret Life of Pets 2" in 2019.
Please fill in your e-mail so we can share with you our top stories!